The Audi AI:Trail Quattro is a concept that takes both the idea of autonomous mobility and off-road capability very seriously. If you've ever done even some light off-road work you may find this to be a rather frighting combination. Audi does seem to have done its homework though, so let's see what's what.
Chunky rubber wrapped around 22-inch wheels and a massive ride-height of 340 mm provides the foundation for the monolithic body made mostly of glass providing the four occupants with all-round visibility. Audi's Head of Design Marc Lichte says that the design provides passengers with an intense sense of connection with their surroundings. Onboard for example, there are no big screens to distract anyone from exploring what is outside. We need more of this in today's cars some infotainment systems allow you to check the news and your social media not cool if you're passing through the countryside and not seeing what the landscape has to offer.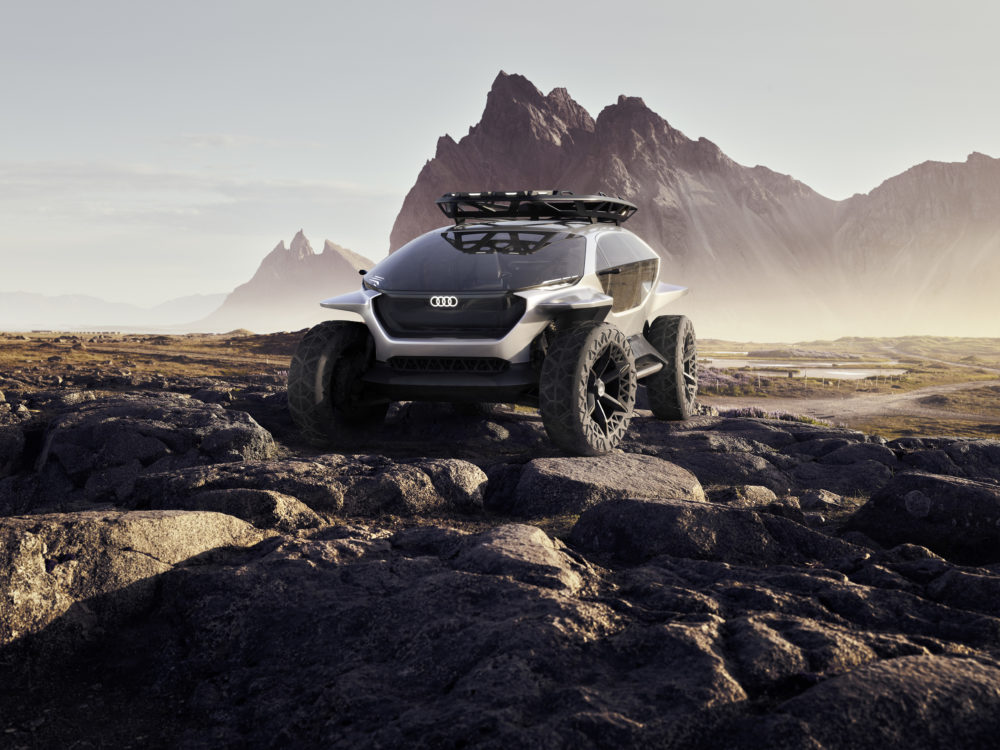 Given that the AI:Trail is intended to roam off the beaten track, predictably without charging infrastructure the issue of range was a concern for the engineers. The solution is a lithium-ion battery capable of around 400-500 km on a single charge according to the WLTP test procedure on light off-roading. On rough ground, where energy consumption is higher, the estimated range is limited to a less impressive 250 km.
The Audi AI:Trail is equipped with four electric motors installed near each wheel. As is typical for Audi, the off-roader is a true Quattro. The maximum system output is a strong 320 kW and maximum torque comes in at a whopping 1 000 Nm. A sophisticated ECU constantly monitors energy-consumption for maximum efficiency and in regular driving, only a fraction of the power is needed and the operation of just one axle can be selected.
With each wheel propelled by an electric motor the AI:Trail does without any heavy differentials or locks and there is no need of a low-range gear ratio either. This means that the AI:Trail weighs-in at a claimed 1 750 kg.
Instead of the hardware, the electronics coordinate driving stability and traction. If energy-consuming slip can be avoided, it reduces the supply of torque to the affected wheel. The large amount of oomph in reserve on the AI:Trail allow it to conquer challenging stretches even in difficult conditions—confidently, safely and without emissions, not forgetting to mention that it'll ford through water up to 500 mm too. The AI:Train is, for now, only a concept but the idea looks to be a good one unless you want to drive yourself that is.