Is the Lamborghini Huracan Evo your go-to car for one last blast on a deserted mountain road? Let's find out, shall we…
Just like myself whiling away the days during the Covid-19 lockdown, i'm sure you posed yourself this question: For one fantasy daydream blast on a deserted mountain road, what mid-engined supercar would you choose? There's a decent selection nowadays: The Audi R8, Ferrari F8 Tributo, and a host of McLarens, the most powerful of which is the 720S. But while each of these delivers pulverising performance and a suitable million-billion Rand price tag, we think the Lamborghini has them beat in one crucial area.It's as close to looking like the sexy supercar you had up on your bedroom wall growing up. Our photographer Peet's pics do an excellent job of capturing its dramatic silhouette, but trust us when we say that in the metal, the Huracan Evo is even more unfathomably low, pointy and gorgeous.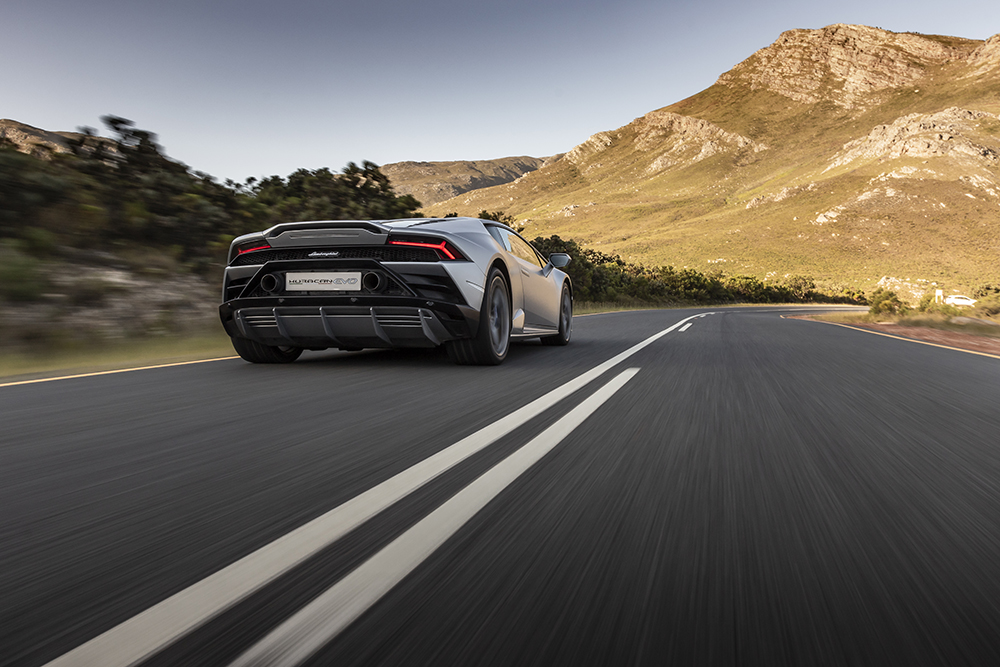 But what about that name, Huracan Evo? Well, the Evo tag is something of a misnomer in this case. Unlike Mitsubishi Lancers of yore, it's not some kind of stripped out, hardened up Performante plus flagship. It's merely a facelift to the run-of-the-mill Huracan (as if there is such a thing as a run-of-the-mill Lambo) that was launched as long ago as 2014 don't forget. So what you get is cosmetic tweaks that while subtle, do an excellent job of transforming the overall facade. The front detailing borrows heavily from the new Sian hypercar, the rear diffuser is much more aggressive than before and the centrally positioned exhaust outlets are inspired by the Aventador SVJ. On the inside there's a new 8.4-inch touchscreen on the centre console to keep up with the hi-tech interiors coming from McLaren and Ferrari, and a new version of the Audi-style Virtual Cockpit driver's display. Our car features blue brake calipers and blue detailing on the sports seats which is a unique touch for the Italian firm.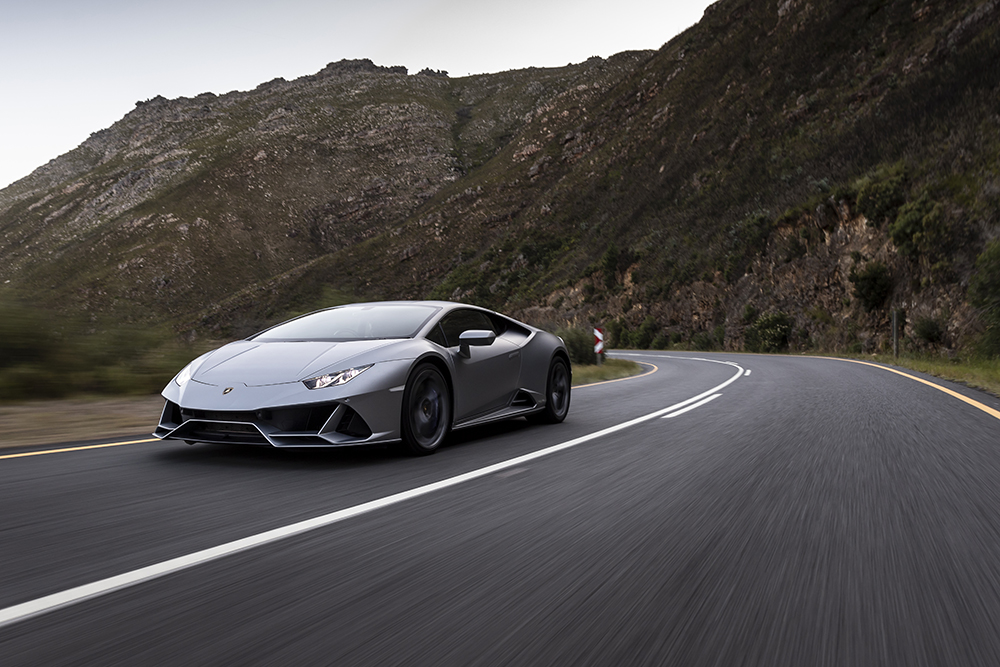 Sliding behind the wheel in the impossibly low cabin takes some dexterity for anyone taller than six foot (like myself) and when you're finally kind of wedged in-between the low roof and bucket seat you'll undoubtedly notice the massive, angled A-pillars that make it look fantastic from the outside but are not particularly easy to see out of. The dynamic steering feels light in weight and feel at slow speeds; likewise, town speeds is where you'll notice the new rear-wheel steering system borrowed from the bigger Aventador, which makes the car feel less unwieldy in a parking lot. Speaking of parking lots, anytime you're in one you're going to need to use the hydraulic nose lift because even the most inconsequential-looking speed bump, hard shoulder or kerb poses a threat to the Huracan's pretty nose. And future owners mustn't forget that parking with the nose lift engaged not only looks ungainly for the supercar paparazzi, but it's not good for the hydraulic system itself. In a word, this Huracan is not about making quick getaways from the shops.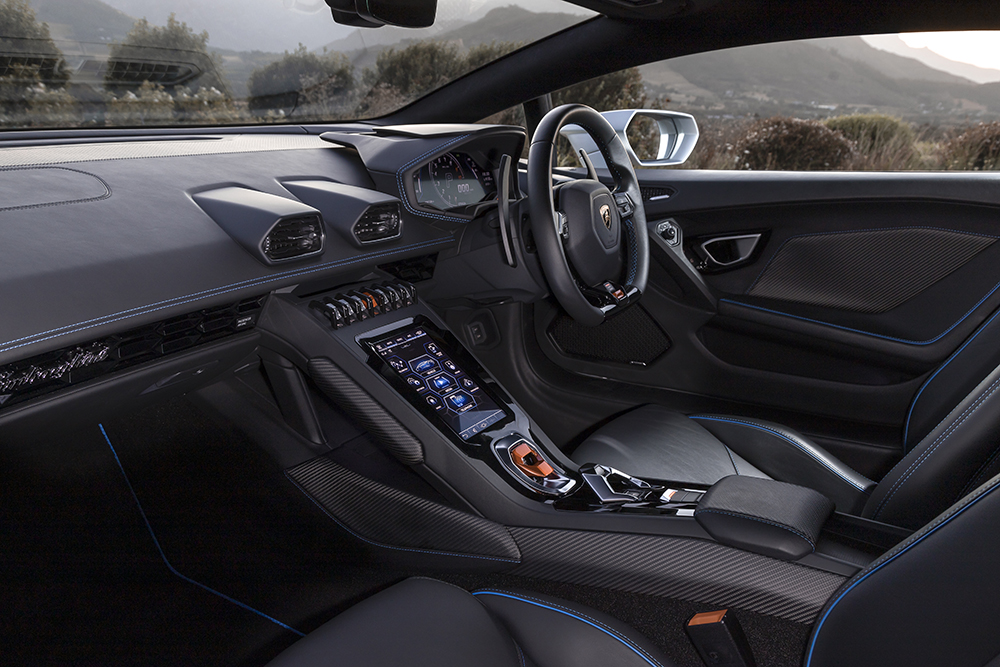 Nope, what this Huracan is all about is toggling the Anima driver control to Sport or Corsa (for track) and revealing in its greater depth of character at speed. Sport mode especially is where the dampers tense up (Corsa is too hard for the public road), the steering comes alive, and the car's LDVI brain that co-ordinates the all-wheel drive, traction control, torque vectoring and rear-wheel steering adjusts to the job at hand. Unlike the Performante we drove last year, there's no trick aerodynamics but the 5.2-litre V10 with improved fluid dynamics is exactly the same in this Evo. So we're talking about 470 kW and 600 Nm of naturally aspirated fury, a 0-100 km/h sprint time of 2.9 sec, 0-200 km/h in 9 sec and a top speed of 325 km/h. And it sounds and behaves just as brutally as in the flagship Performante.
On a twisting road the LDVI provides smart, immediate response, but response thatfeels a little unnatural all the same. Even for a well balanced mid-engined supercar, the turn in can feel over assisted at times, and the brake pedal on our test unit felt a little over-servoed and surprisingly keen to kick the car into an oversteer attitude when you're merely trying scrub off a bit of speed into a corner. I can see what Lambo's IT department was trying to do, they were trying to eradicate any sense the car will understeer, as this was what the pre-facelift Huracan was much maligned for, but in their eagerness they've created a very darting almost unsettled driving characteristic.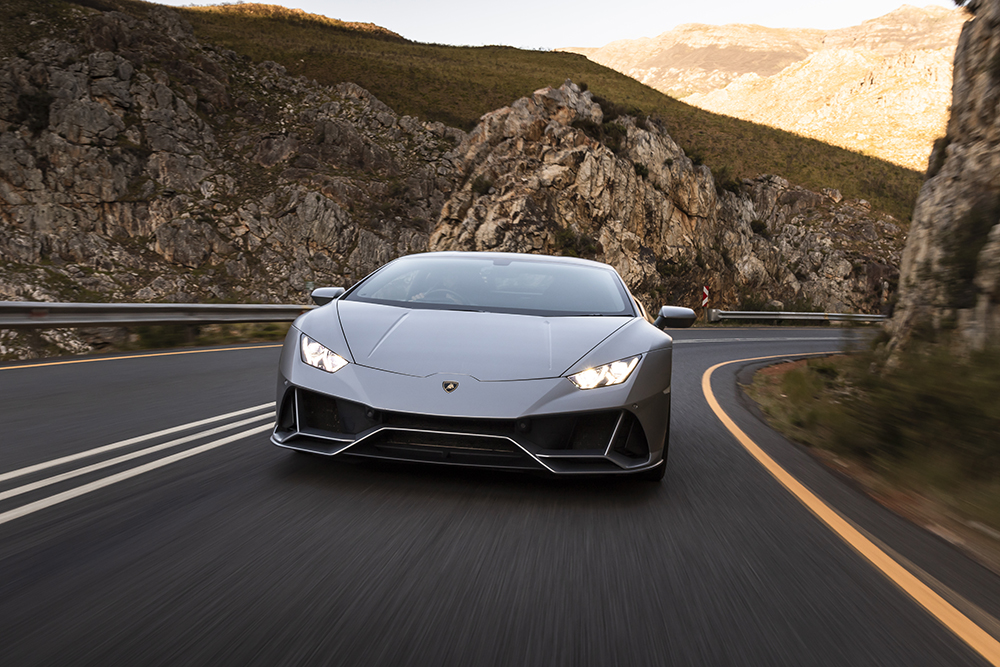 The engine, however, cannot be faulted in any respect. Being a turbo-free zone means you're never left waiting when you bury the throttle, kick down a couple of gears and the soundtrack stirs your soul. The 7-speed dual-clutch transmission is so good now, too, it picks up a lot of the slack to keep you away from the flat power zone in low to mid rpm and raring in the go-zone between 6500 rpm (peak torque) and 8000 rpm (peak power). Gear shifts are never jarring like they once were in the old single-clutch Gallardo e-gear. This is the Huracan Evo's party piece – its wondrous, roaring engine and silken transmission. You emerge from the car in awe of its big-lunged, turbo-free engine. It's sound, response and charisma stays with you long after the 10-cylinder musical instrument has shut down. It's stirring enough to forgive its overly synthesised dynamics and computer-controlled shortcomings. Best of all, it's still a proper Lambo that possesses all the visual theatre of its supercar ancestors. Long live Lamborghini.
IN A NUTSHELL
Lamborghini Huracan Evo
HIGHS
Looks and sounds like a proper Lambo
LOWS
Too computer controlled for our liking
FIGURES
Engine: 5204 cc, 10-cylinder petrol
Power: 470 kW @ 8000 rpm, 600 Nm @ 6500 rpm
Performance: 0-100 km/h in 2.9 sec, top speed 325 km/h
Tyres: Tyres: 245/30/R20 front, 305/30/R20 rear – Pirelli P Zero Corsa
Economy (claimed): 14.8 l/100 km
Transmission: 7-speed dual-clutch auto, all-wheel drive
CO2 emissions: 332 g/km
Price: R5 695 000