An extremely fast, high-riding SUV that's comfortable on road and rewardingly rugged off it. What's unique about that, you ask? Well, this one wears a Lamborghini badge
It's important not to underestimate that fact. A Lambor-freakin'-ghini, people. You know, the marque exclusively dedicated to making cars for Rod Stewart, the marque who's sole output (more or less) was a mid-engined V12 supercar every decade or so – Miura, Countach, Diablo, Murcielago, Aventador from 1966 to this very day. And now they build a car you could conceivably drive from Cape Town to the border with Namibia at Oranjemund only on dirt roads. What a strange and glorious time we find ourselves in.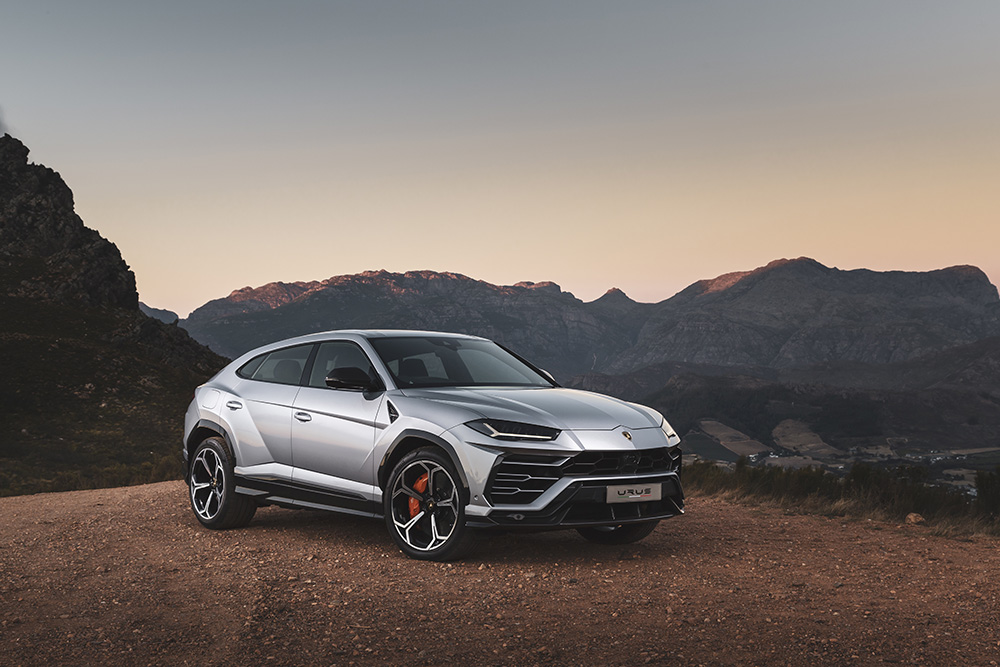 Sure, the anoraks among you will know the Italian firm did try its hand at a Rambo Lambo back in the '80s with the LM002. A hardcore desert-bashing off-road vehicle with a 5.7-litre V12 engine made for Middle Eastern and North African dictators mostly. But that was more of a laugh than anything else and they only built 300 odd of them. A number considerably higher than it's paltry top speed of; wait for it, 210 km/h. No, the 21st century Lamborghini off roader is a much better judged and more performance orientated piece of kit. A top speed of 305 km/h, a 0-100 km/h sprint time of 3.6 sec is entirely befitting a super SUV that; allow us to remind you, can drive on dirt all day, every day till the cows come home. Perhaps that's why they named it after the ancestor of modern domestic cattle (aka the aurochs).
Any-who, enough about all this origin-story stuff. What's important in a Lamborghini is the performance and pantomime. Does this high-riding, five-door SUV look, feel and go like a proper Lamborghini? On the looks front I think we can all agree that it definitely is the most extreme of all the premium SUVs. There are more more slashes, hexagons and swage lines across its bodywork than Chris Hemsworth has muscles on his bod, which is an impressive feat. Is it pleasing to the eye? Not entirely; from some angles it's bordering on fussy, but you cannot deny the effort that's gone into styling it like a madcap Lamborghini. The images perhaps don't quite capture it, but the Urus has a surprisingly low roofline, a slim glasshouse area, and the 22-inch rims specified (23-inch is the maximum size) account for a large ratio when viewed in profile. This is a good thing, as Lamborghini makes a big deal of the vehicles 1/3 glass to bodywork ratio, the result being the Urus is one of the few production car on sale that retains the lavish, space-age proportions of an original concept car sketch.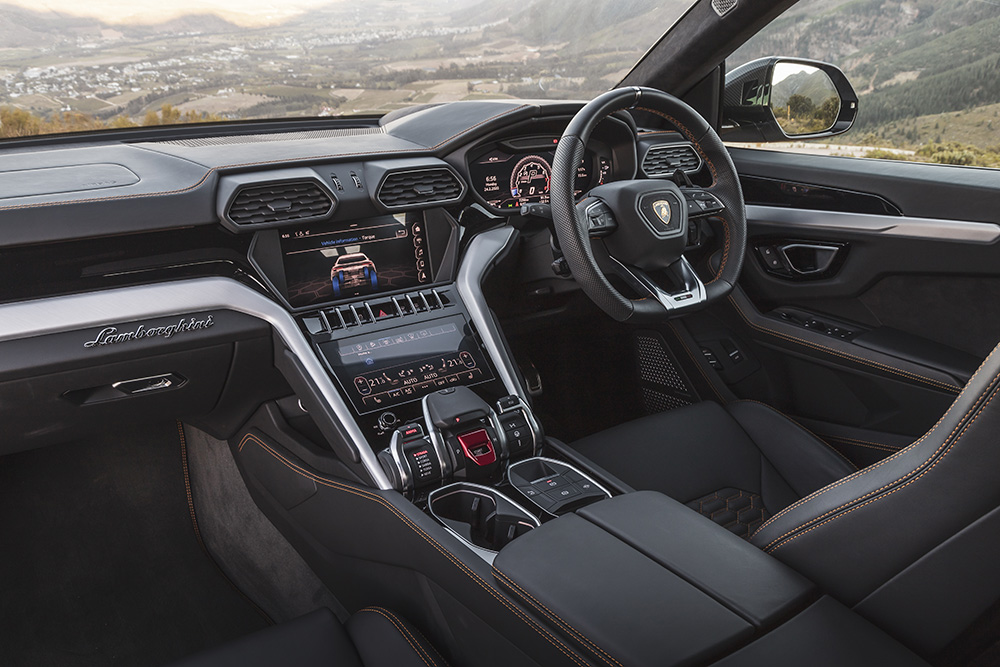 Inside the cabin, the Lambo-ness is a little more subdued. Truthfully, it's all very Audi inside, which is no bad thing when you consider everyone has lauded Audi interiors and their build quality for as long as anyone can remember. In something like the Huracan Evo slightly more effort has gone into making it look less Audi, but the upside of the normalcy in the Urus is exactly that – you climb in and can find your way around immediately without having to sit through a two-hour orientation session. The only thing of unique interest is the Tamburo on the transmission tunnel which controls the Anima, or selectable driver modes. Ego is your individual setting (how Italian is that?) and in case you forgot your Form 1 Latin: Neve is snow, Terra is off road and Sabbia is sand. Jolly good, thanks for the refresher.
Behind the wheel, the Urus leaves you in no doubt about its priorities. It's a super SUV that targets performance in all conditions, augmented with rugged, go-anywhere practicality. The motor is the highest performing of the VW Group engine developed by Porsche. The twin-turbo 4.0-litre V8 produces 478 kW and a continent crushing 850 Nm of torque, it's also the first turbocharged Lamborghini produced to date. By SUV standards its relatively lightweight, just 2195 kg, whereas most cars of a similar class weigh closer to 2500 kg. Because of that the power-to-weight ratio is excellent and the performance relentless. 0-100 km/h is dispatched in 3.6 sec as mentioned, and 0-200 in 12.1 sec. Given the entire Gobi desert for a run up, the old LM002 could barely 200 km/h, but that's mightily impressive acceleration that'll make mince meat out of most storied V12 supercars the marque is famous for: Countach, Diablo, etc…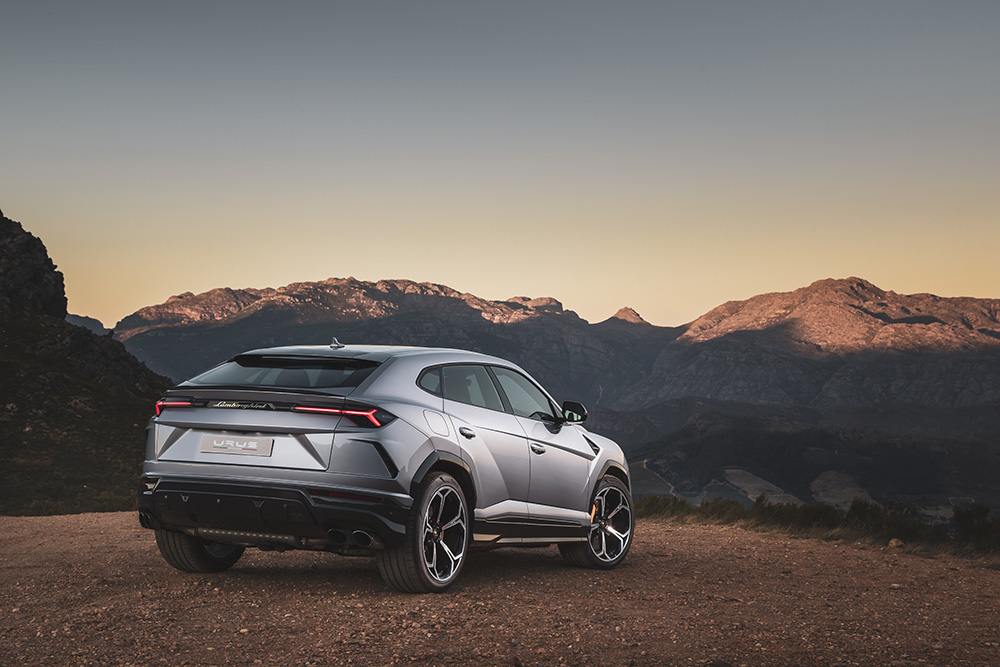 Our only misgiving is a muted soundtrack from the forced induction engine. Comparing it to any naturally aspirated Lambo V10 or V12 is downright unfair, we know; but even so, we expected a better aural range from Rambo Lambo version two–point–oh. There's the cursory pop and bang on the overrun, which is nice, but if you want to get an idea of what it sounds like, find that pair of knackered old headphones in your desk drawer – you know the ones the cat chewed on so they no longer play in stereo – and listen to your favorite head-banging tune and wonder where half the sound has gone. That's what the engine note is like in the Urus. You're left wondering: Is this all of it?
It's not enough to takeaway from how impressively the Urus performs in any condition though. Obviously one must be reasonable about it, shod with low-profile, high-performance rubber you're not going to conquer the sand dunes of the Namib desert. However, with all-wheel drive, all-wheel steer, adaptive air suspension, active torque vectoring and its three off-road modes, we can guaran-damn-tee you it will make it to the Namibian border at Oranjemund on any road that takes your fancy. And in record time, too.
IN A NUTSHELL
Lamborghini Urus
HIGHS
Rugged, easy to use, fast
LOWS
Muted soundtrack
FIGURES
Engine: 3996 cc, 8-cylinder twin-turbo petrol
Power: 478 kW @ 6000 rpm, 850 Nm @ 2250 rpm
Performance: 0-100 km/h in 3.6 sec, top speed 305 km/
Tyres: 305/35 R22 Pirelli P Zero
Economy (claimed): 10.6 l/100 km
Transmission: 8-speed auto, four-wheel drive
CO2 emissions: 325 g/km
Price: R 3 495 000