Combining the power of an RS model with the elegance of a premium coupé and the flexibility of an SUV, the new Audi RS Q8 is the top model in the Q SUV product line.
Maximum power and high efficiency: the engine
441 kW, 800 Nm of torque between 2 200 and 4 500 rpm – the 4.0 litre V8 delivers impressive performance accelerating the large SUV coupé from 0 to 100 km/h in just 3.8 seconds and to 200 km/h in 13.7 seconds.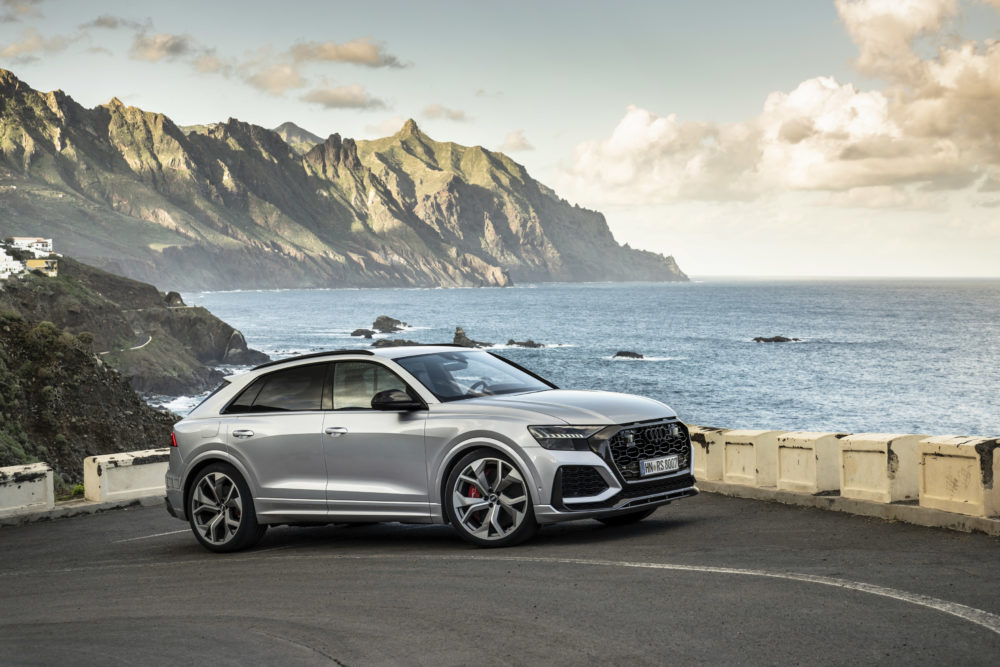 The biturbo V8 in the new RS Q8 combines maximum performance and high efficiency. Its mild-hybrid system (MHEV) is based on a 48-volt main electrical system. The core of the MHEV is a belt alternator-starter connected to the crankshaft. During deceleration and braking, it can recover up to 12 kW of power and store it in the compact lithium-ion battery. If the driver takes their foot off the accelerator at a speed between 55 and 160 km/h, the drive management selects one of two solutions depending on the driving situation and the current setting of the Audi drive select dynamic handling system: The new RS Q8 recuperates or coasts for up to 40 seconds with the engine off. The belt alternator starter starts the engine within fractions of a second when the accelerator is actuated. MHEV technology allows for start/stop operation at a speed of up to 22 km/h. The interplay of the MHEV components improves ride comfort and also has the potential to reduce fuel consumption in everyday driving by as much as 0.8 litres per 100 kilometres.
Another efficiency module on board is the cylinder on demand (COD) system. At low to intermediate load and rpm in the upper gears, it deactivates cylinders 2, 3, 5 and 8 by switching off fuel injection and ignition and closing the intake and exhaust valves. The switching process takes just milliseconds, and is virtually imperceptible in the car. During four-cylinder operation, the operating points of the active cylinders shift to higher loads and map points with high efficiency, while the deactivated cylinders run largely loss-free as gas springs. They are reactivated immediately when the driver presses the accelerator.
The power of the 4.0 TFSI flows to the quattro permanent all-wheel drive system via the standard eight-speed tiptronic. Configured as a planetary gear, the purely mechanical centre differential typically distributes the drive power in a 40:60 ratio to the front and rear axles. In the event of slip, more drive torque automatically goes to the axle with the better traction. Up to 70 percent can be directed to the front wheels and up to 85 percent to the rear wheels.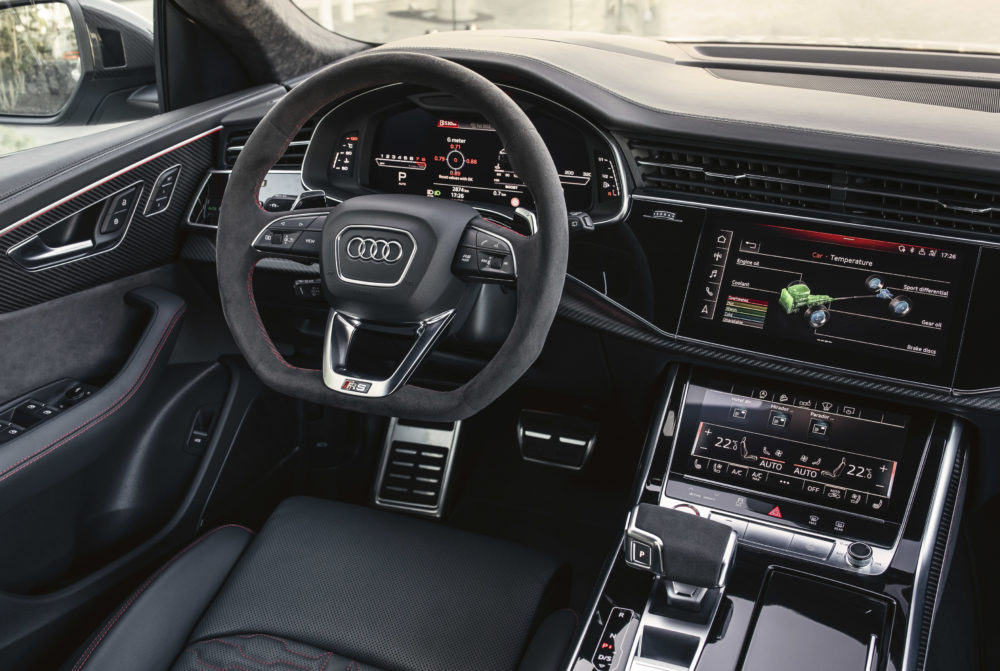 Local pricing and availability
The new Audi RS Q8 will officially go on sale in South Africa from 1 April 2021 and is priced as follows (inclusive of all taxes) and comes standard with a five year Audi Freeway Plan:
Audi RS Q8 TFSI quattro           R2 354 500