The latest version of Toyota's ever-popular Hilux bakkie is officially in South Africa. The model line-up has been updated to match the Hilux naming convention of models internationally. The base S and SR models, still feature the old front designs while the big change that we're interested in begins in the 'mid-range' where the SRX is now replaced by the Raider.
"The SRX model has continuously evolved in line with market requests. SRX and Raider have now effectively merged, creating an opportunity for a flagship-grade above Raider – precisely what the new Legend grade offers," says Glenn Crompton, Vice-President of Marketing.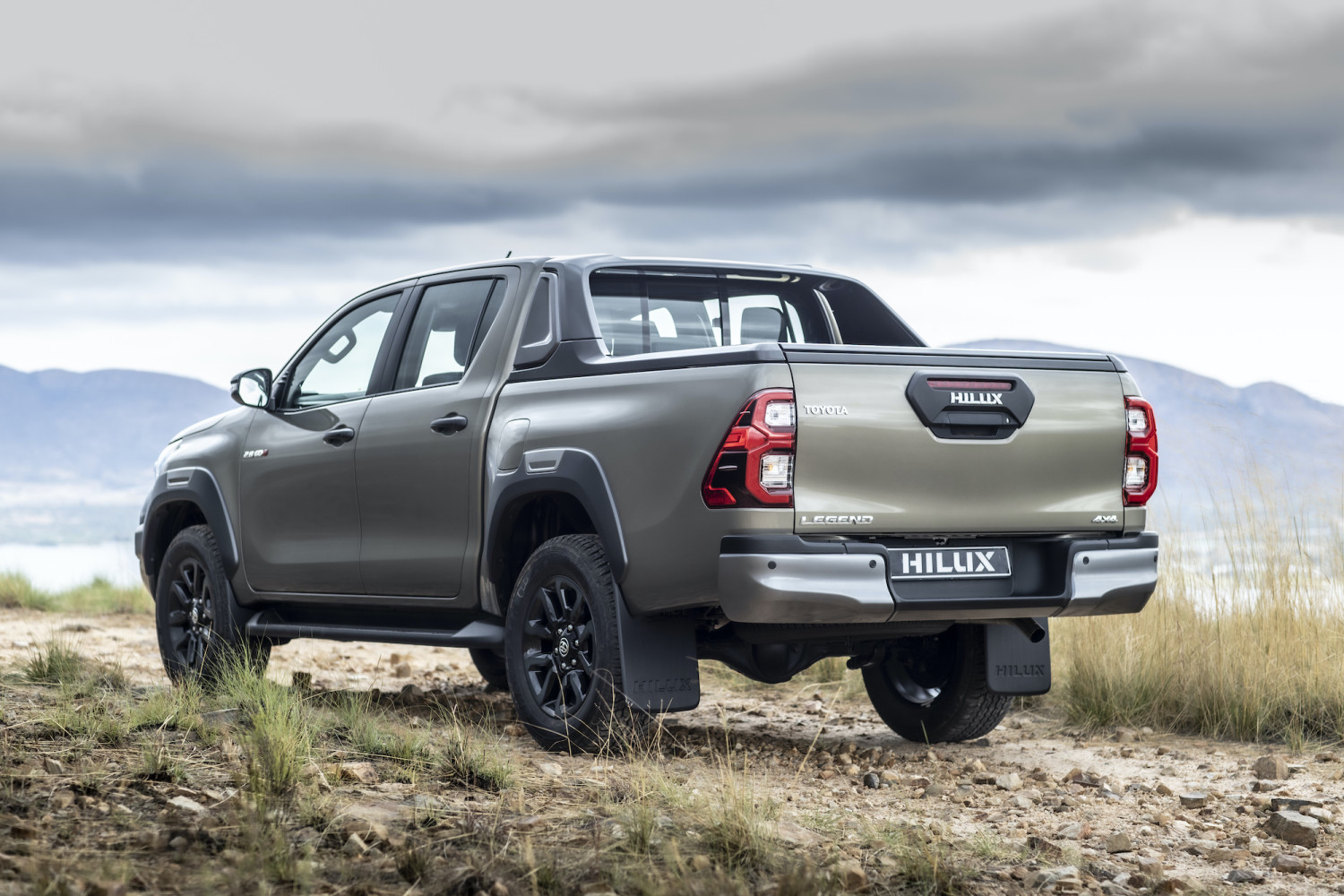 Raider models feature a new trapezoidal grille with chrome outlines and horizontally-separated 3D grille elements. New boomerang-shaped fog lamp bezels and an integrated bumper guard are new design features too. The 2.4 GD-6 models get four-bulb Halogen headlamps, while the 2.8 GD-6 Raider has Bi-LED headlamps and LED turn-signals.
The Legend flagship model has a grill outlined in black that integrates with the front bumper, a bonnet protector, skidplate, while dark-plated headlamp inserts and a centred chrome inlay with Toyota insignia for a more imposing look. An optional 'RS' accessory package refers to a roller shutter that is offered on Legend-grade models. It's a motorised roller shutter and the model receives upgrades including a graphite-coloured sportsbar, rubberised bedliner, assisted tailgate with central-locking function and a dust-defense kit.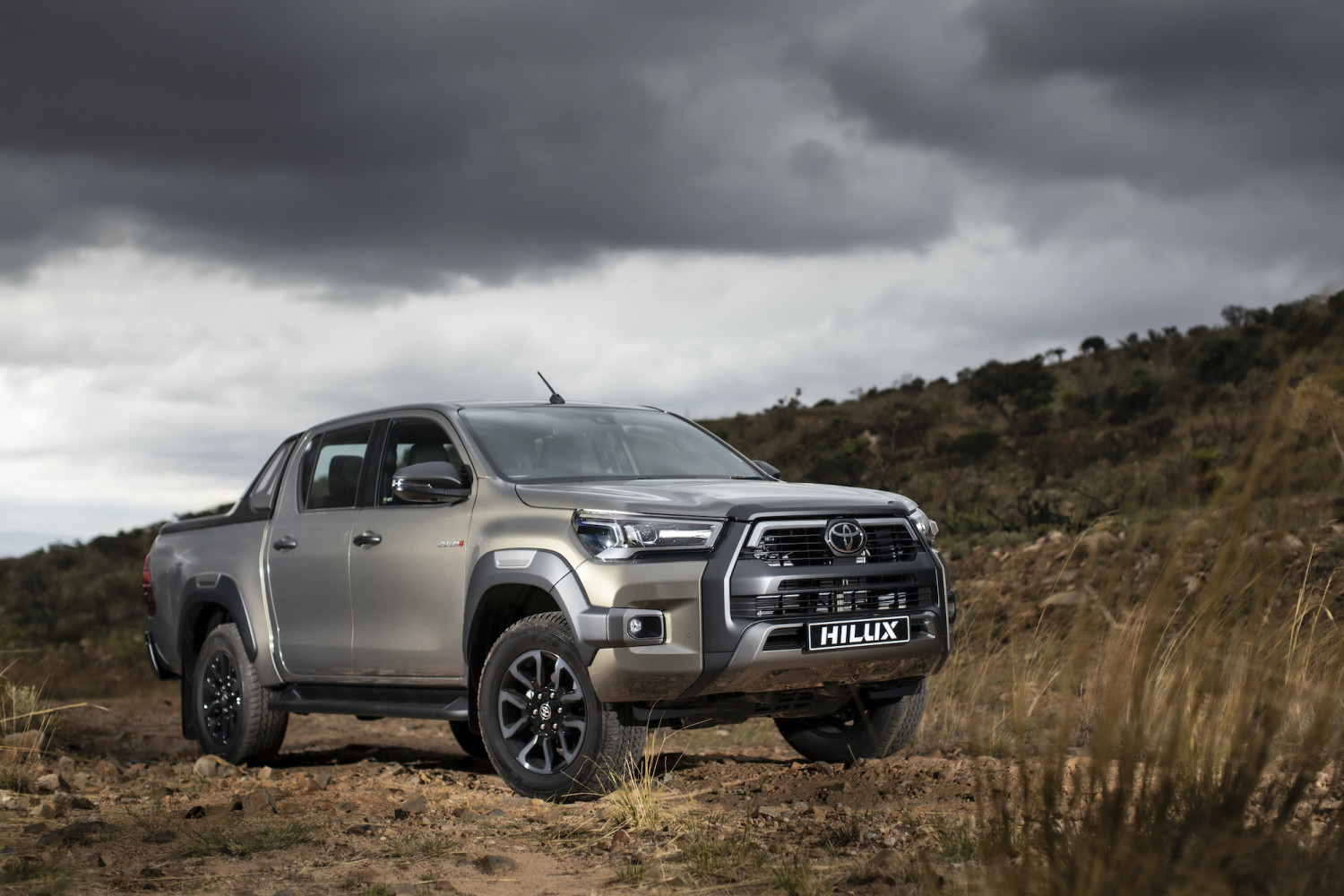 Inside, the new Hilux is a much-needed update to the infotainment system while cluster design features metallic inserts, a notched outer ring and metallic bezel. The new 8-inch infotainment system incorporates a floating screen-design while retaining rotary adjustment knobs for ease of use. We love us a physical knob!
The Raider and Legend offer both Apple CarPlay and Android Auto functionality. Here, apps like Google Maps and Waze can be used and the manne can access their music libraries and streaming accounts via Apple Music, JOOX, Spotify and SoundCloud.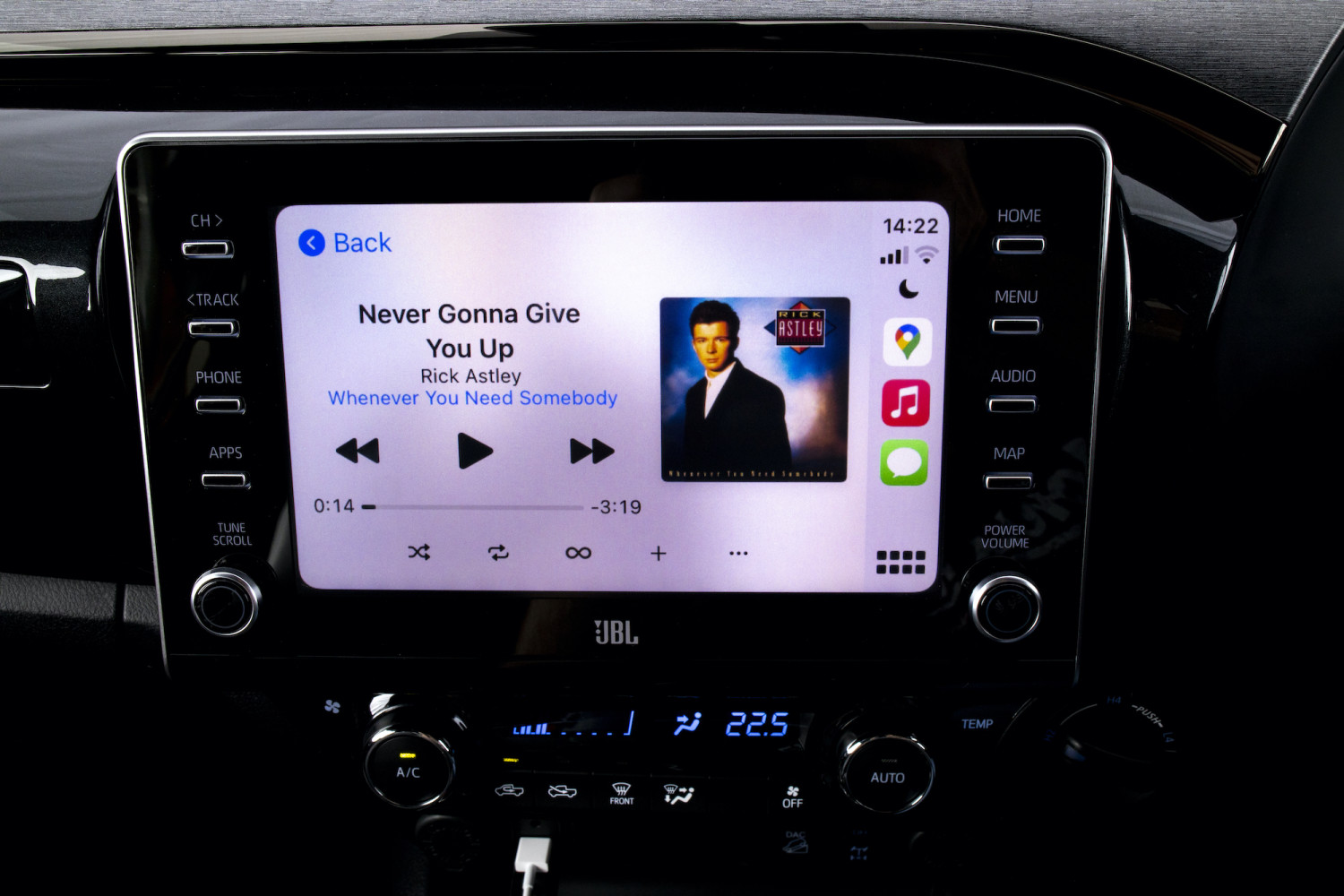 All Hilux models are also equipped with the Toyota Connect telematics system with an in-car Wi-Fi hotspot and complimentary 15Gb data. Owners can then top-up their data via the Toyota Connect App. An additional 5 GB valid for 30 days is available for R220.
More Power & Performance
The 2.8-litre turbodiesel GD-6 engine now delivers 150 kW and 500 Nm for the automatic while the2.4 GD-6 4×4 can now tow up to 3.5 tons, matching that of the mighty 2.8 GD-6 4×4.
Model Line-up and Pricing
DOUBLE CAB
MODEL
PRICE
S
2.7 VVTi RB S 5MT
R 440,400
SR
2.4 GD-6 RB SR 6MT
R 476,900
2.4 GD-6 4X4 SR 6MT
R 549,200
RAIDER
2.4 GD-6 RB RAIDER 6MT
R 505,200
2.4 GD-6 RB RAIDER 6AT
R 521,200
2.4 GD-6 4X4 RAIDER 6MT
R 583,700
2.4 GD-6 4X4 RAIDER 6AT
R 609,500
2.8 GD-6 RB RAIDER 6AT
R 631,900
2.8 GD-6 4X4 RAIDER 6AT
R706,400
LEGEND
2.8 GD-6 RB  LEGEND 6MT
TBC
2.8 GD-6 RB  LEGEND 6AT
R 696,200
2.8 GD-6 4X4  LEGEND 6MT
R 733,500
2.8 GD-6 4X4 LEGEND  6AT
R 765,600
4.0 V6 4X4 LEGEND  6AT
R 765,200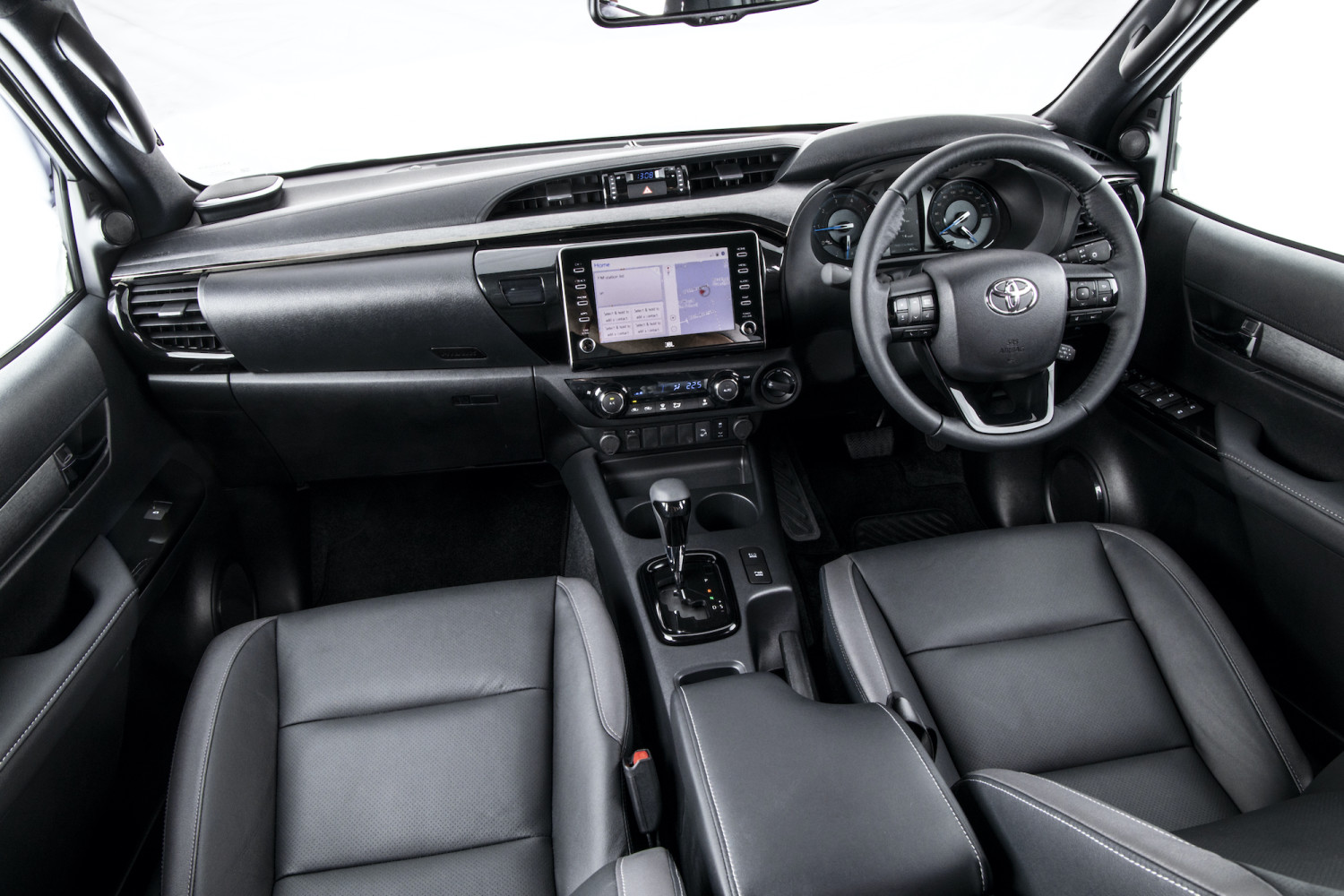 But wait, there's more…
XTRA CAB
MODEL
PRICE
RAIDER
2.4 GD-6 RB RAIDER 6MT
R 460,000
2.4 GD 6 RB RAIDER 6AT
R 478,200
LEGEND
2.8 GD-6 RB LEGEND 6MT
R 550,000
2.8 GD-6 RB LEGEND 6AT
R 574,900
2.8 GD-6 4×4 LEGEND 6MT
R 622,000
2.8 GD-6 4×4 LEGEND 6AT
R 647,300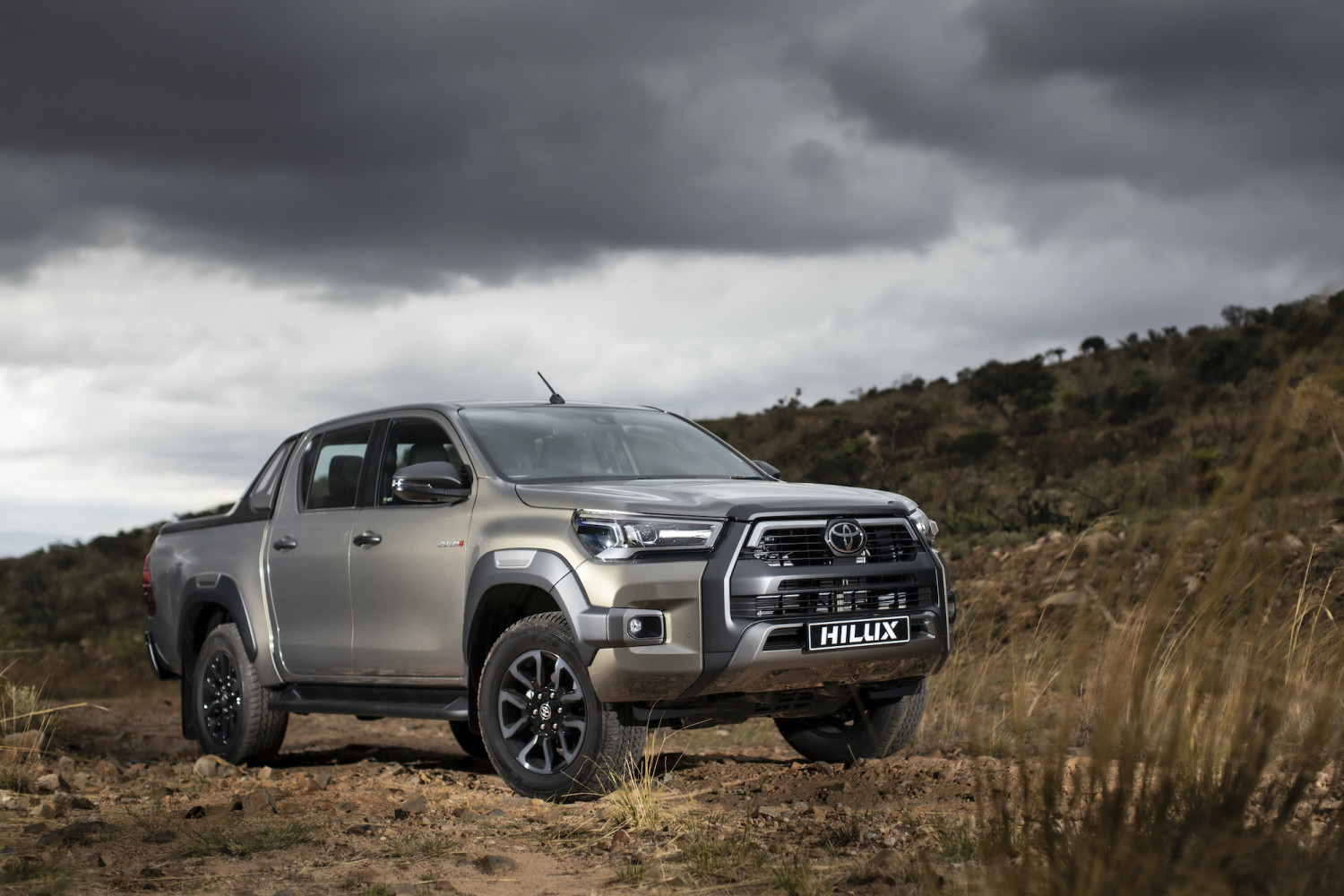 We're not done just yet…
 SINGLE CAB
MODEL
PRICE
S
2.7 VVTI RB S 5MT
R 386,700
2.0 VVTi S 5MT
R 291,100
2.0 VVTi S A/C 5MT
R 299,800
2.4 GD S 5MT
R 328,400
2.4 GD S A/C 5MT
R 337,200
SR
2.4 GD-6 RB SR 6MT
R 414,500
2.4 GD-6 4X4 SR 6MT
R 482,000
RAIDER
2.4 GD-6 RB RAIDER 6MT
R 447,800
2.4 GD-6 RB RAIDER 6AT
R 466,100
2.4 GD-6 4X4 RAIDER 6MT
R 520,700
2.4 GD-6 4X4 RAIDER 6AT
R 540,900
2.8 GD-6 RB RAIDER 6AT
R 532,300
2.8 GD-6 4X4 RAIDER 6AT
R 602,400
Watch the video below as a reminder as to why we're looking forward to this latest addition to the Hilux nameplate: