What's a better automotive companion to take care of the school run, the family holiday, the trudge to the office and all those ho-hum shopping trips for years to come? A seven-seat SUV of course.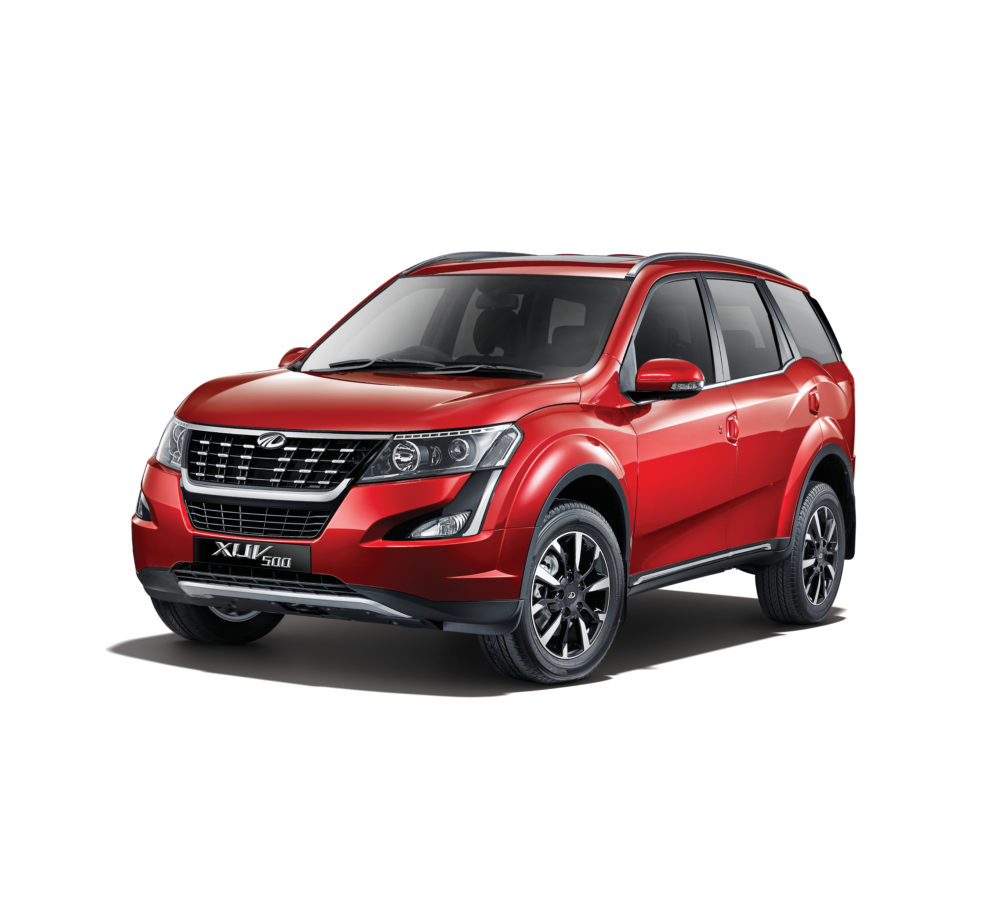 The SUV is the preferred choice of transport for many South African families, with large seven-seaters often at the top of the aspirational family car list. From the commanding driving position, acres of sheet metal cosseting occupants, interior space, practicality, to the possibility of conquering a gravel mountain pass, to the status associated with a high bonnet, there is much to love about these large lumps of iron. The camaraderie of having all seven pews filled with loved ones and heading off for an adventure is an experience only these sorts of vehicles can provide. Any of these should fit the bill, and with the staggering choice available, we gather five that stand out amongst the competition.
Mahindra XUV500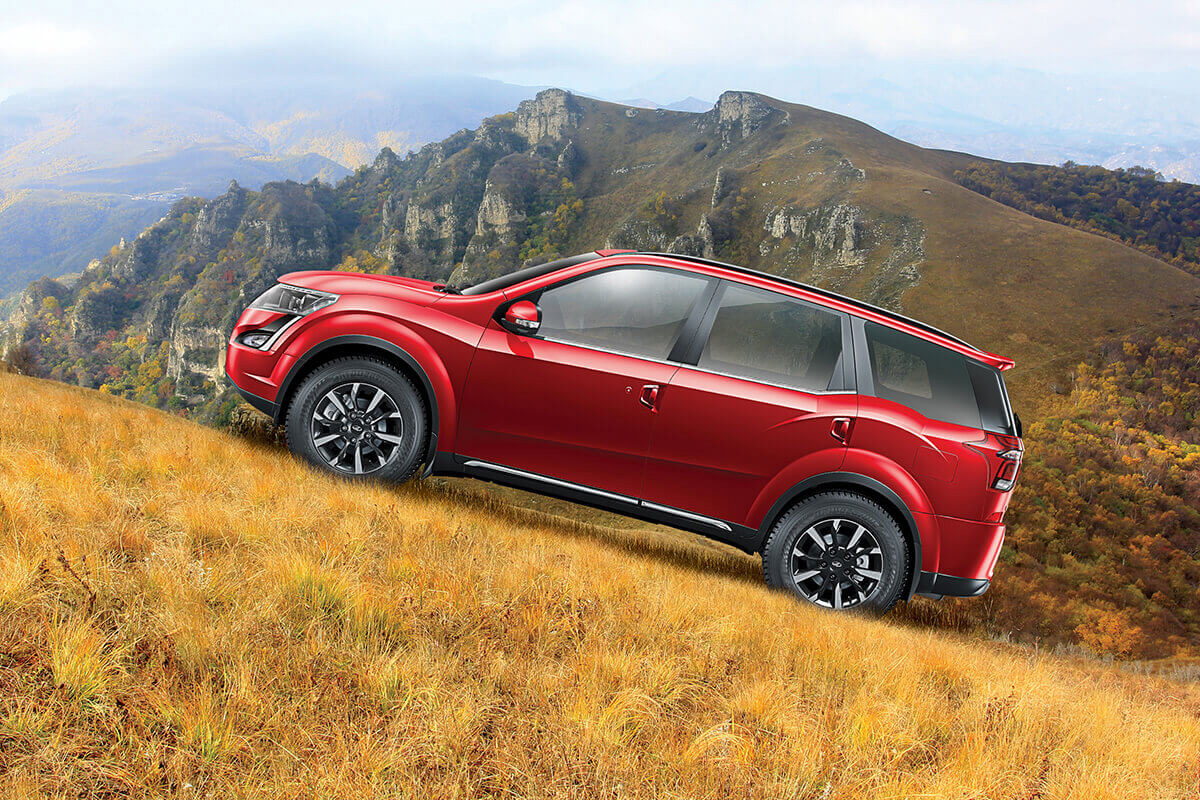 Yes, Mahindra may be the largest tractor maker in the world but the Indian brand is serious about changing any misconceptions about its road-going vehicles. The XUV500 (pronounced five-double-oh) is Mahindra's halo product and it has a point to prove. Outside of the subcontinent South Africa is the most important market for the brand, so a 5 year/100 000 km warranty, service plan and road-side assistance will keep you covered. The XUV500 is not a fierce off-road monster, rather a front-wheel-drive SUV monocoque with a generous 200 mm ground clearance. It's lighter than ladder-frame-chassis rivals and this relates to better everyday fuel economy and a soft ride devoid of much shimmy and shake of bakkie-based SUVs. The looks are certainly an acquired taste but the mechanics have been well proven in the brands Pik-Up workhorse. The 2.2-litre turbodiesel engine produces maximum torque from 1 600 rpm through to 2 800 rpm. The standard features list is impressive, too, interior ambient lighting, LED day-time running lights, satellite navigation, a seven-inch touchscreen infotainment system, dual-zone climate control, a sunroof and six airbags are all included.  At R430 000 for this flagship W10, it's effectively doing business in a segment all of its own. You'd have to pay R100 000 more for the comparable Fortuner 2.4 4×2 automatic. If you want a viable alternative that's comfortable, well-equipped with a proper flat-folding seven-seat arrangement for a reasonable price, then look no further than the XUV500.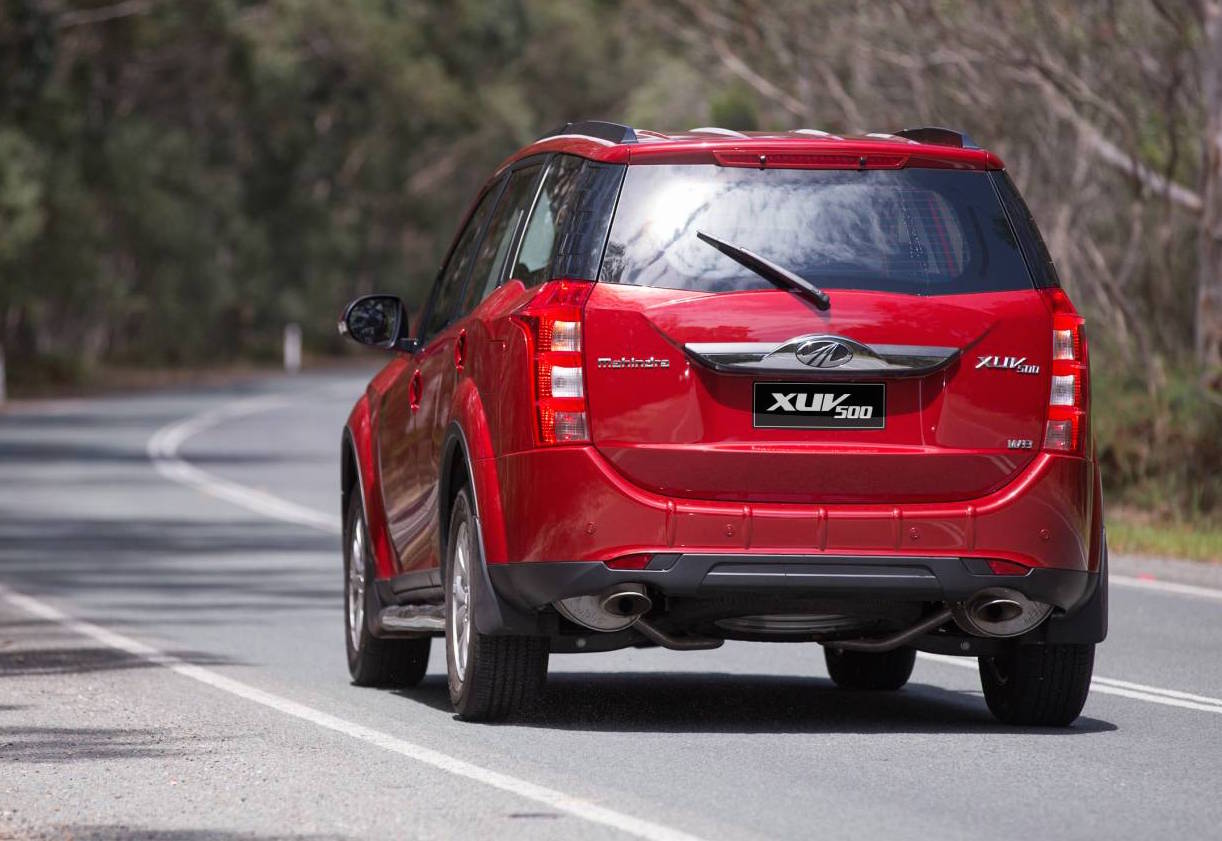 Best for
Saving on options, nearly everything you need comes standard
We Love
Efficient and torquey engine, comfortable ride perfect for ironing out bumps
Not so sure
Interior plastics are cheap, engine noise at speed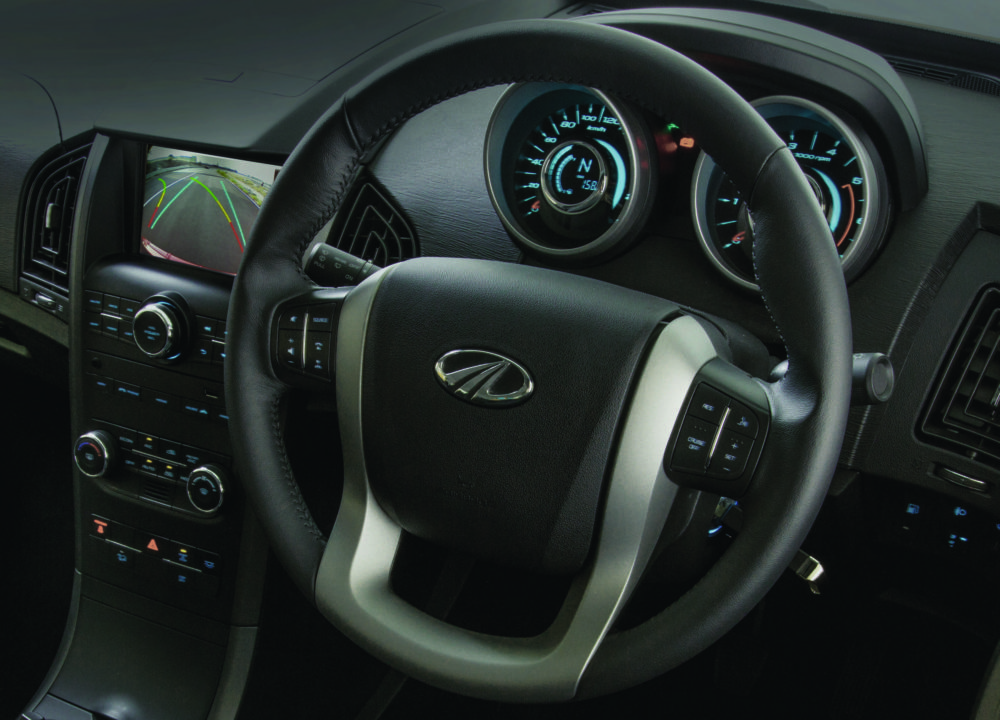 FIGURES
Model – Mahindra XUV500 2.2 CRDe W10 AT
Engine – 2 179 cc, 4-cylinder, turbodiesel
Power – 103 kW @ 3 750 rpm
Torque – 330 Nm @ 1 600-2 800 rpm
Tyres – 235/65/R17
Fuel Tank – 70 l
Economy (claimed)– 7.4 l/100 km, 192 g/CO2
Gearbox – 6-speed auto
Service plan – 5 year/ 100 000 km
Price (from) – R 428 499
Isuzu MU-X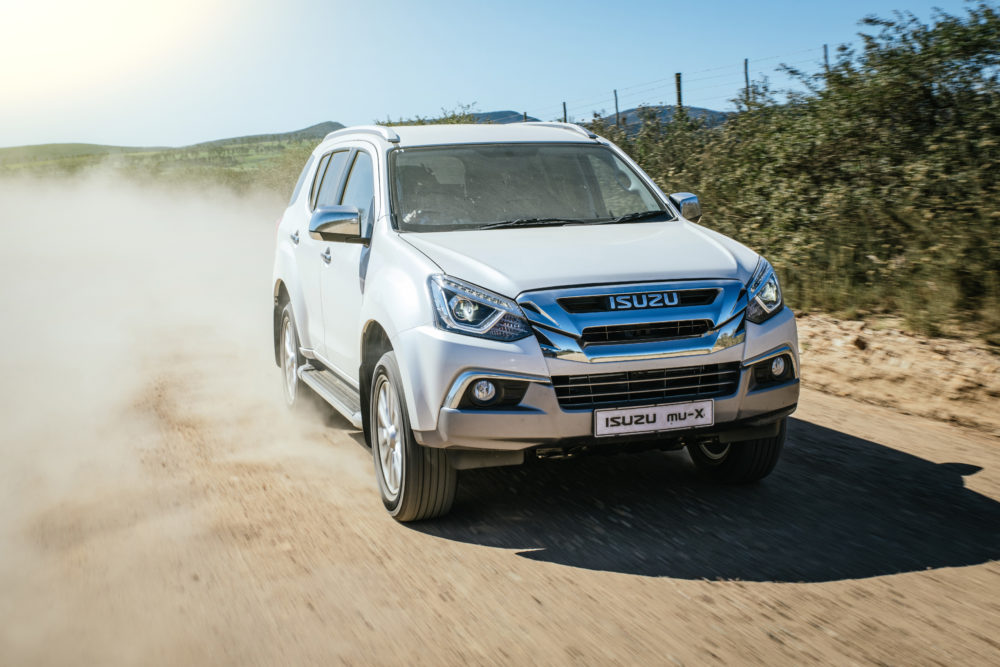 Having been on sale locally since Q2 2018, the MU-X remains an exceptionally rare sight on our roads. The tried and trusted 3.0-litre turbodiesel lends itself to modest performance and is best suited to measured throttle inputs as hard acceleration results in significant engine roar and nothing other than laidback progress. Once up to 120 km/h though, the motor ticks along at only 1 800 rpm and it feels as though it could remain there happily for hours, set to deliver on Isuzu's reputation for no-frills reliability. It has a supple ride that comes into its own on a gravel road thanks to a multi-link rear suspension setup instead of a live axel. The down side of the cushioned ride, however, is a lack of lateral body control and noticeable dive under braking, it does weigh 1 970 kg unladen after all. The interior is well equipped and thoughtfully designed for weekend warriors with comfortable leather seats as standard. I managed to pack a host of goods with all the seats folded flat including a large stainless steel braai, 12 plastic chairs and a coffee table. A compartment underneath the boot floor even swallowed three 2 kg bags of ice. Best of all, the third row of seating offers enough space for adults and offers cup holders and air vents. Clearly designed for the easy-going family that needs a comfortable and spacious ride that can serve them for many years to come. The Isuzu is loosing in the sales race, but telling your mates that you have a 3.0-litre must still be worth something.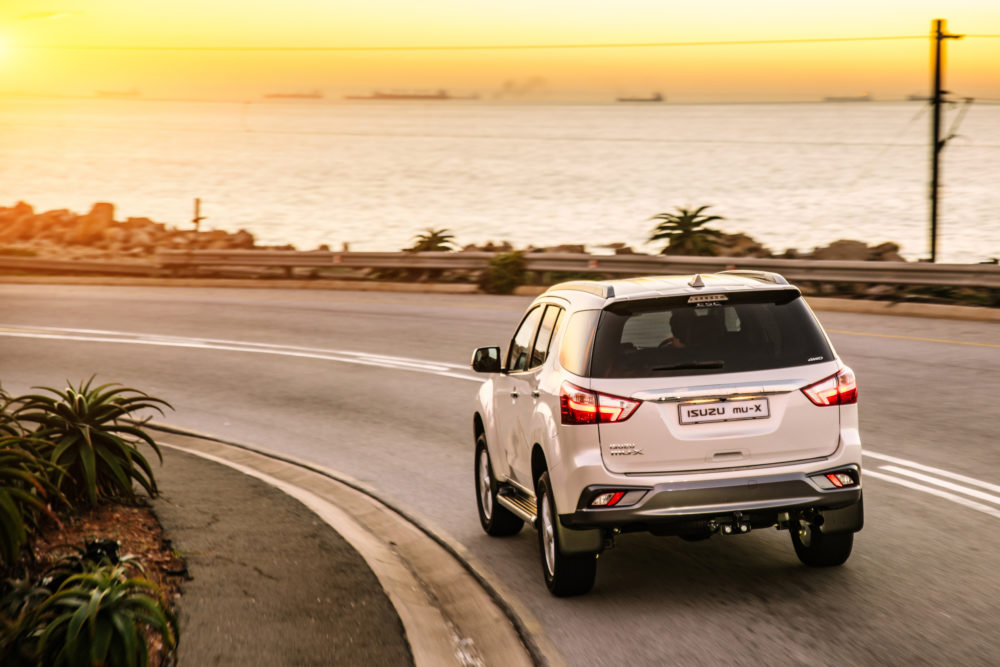 Best for
Good alternative if you're willing to embrace the easy-going drivetrain
We Love
Commanding driving position, well-thought-out seven seat arrangement
Not so sure
Engine becomes rowdy when driven hard, depreciation compared to its rivals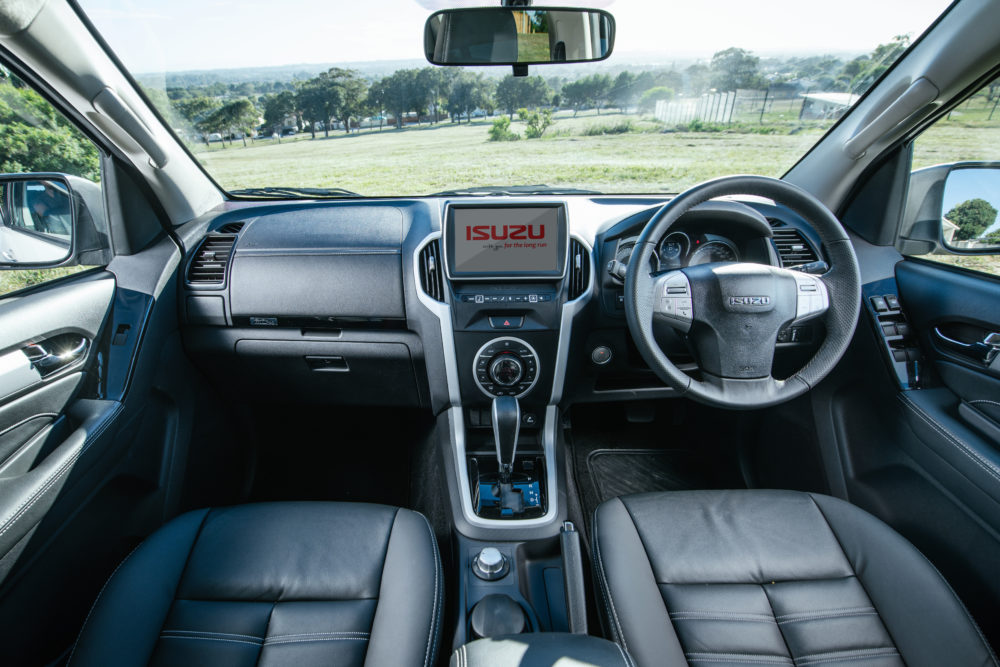 FIGURES
Model – Isuzu MU-X 3.0 4×2 AT6
Engine – 2 999 cc, 4-cylinder, turbodiesel
Power – 130 kW @ 3 600 rpm
Torque – 380 Nm @ 1 800-2 800 rpm
Tyres –  255/60/R18
Fuel Tank – 65 l
Economy (claimed)– 7.3 l/100 km, 194 g/CO2
Gearbox – 6-speed auto
Service plan – 5 year/ 90 000 km
Price (from) – R 593 900
Kia Sorento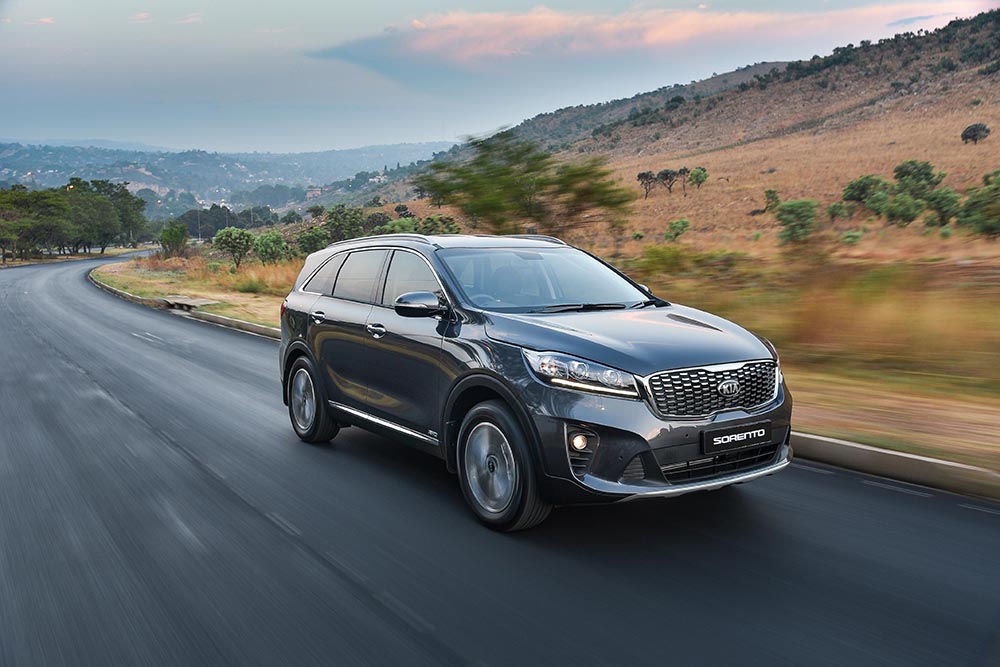 The Kia Sorento is easily one of the most underrated all-round seven-seat SUVs on the South African market. Powered by a trusted 2.2-litre turbodiesel, it's got enough grunt with 147kW and 440 Nm mated to a smooth-shifting 8-speed automatic transmission. It shares much in common with its more stylish Hyundai Santa Fe cousin. On the road, the Sorento's cabin is well insulated and the ride is smooth even on 18-inch alloy wheels. It's road manners can easily be compared to more expensive, luxury competition with long-travel suspension offering a comfortable ride for hours on end. It is a very large vehicle and its sheer size can be felt when parking, it's nearly 5-metres long, but it doesn't feel cumbersome like other bakkie-based SUVs when threading through traffic. Standard Parking sensors front and rear as well as a rearview camera help with parking manoeuvres. With a total luggage capacity of 1 662 l, 605 l with the second row of seats up and 142 l available with the third in place, there is enough room for a meaningful trip to the local Builders Warehouse and then some. It's well specced, too, with reclining rear seats, dual-zone climate control, rear USB-ports, an 8-inch touchscreen infotainment centre with a slick satellite navigation system, Apple CarPlay and Android Auto functionality plus a powerful 6-speaker system and that's only a few of the toys. The Sorento is difficult not to like; however, the buying public with the means continue to overlook it.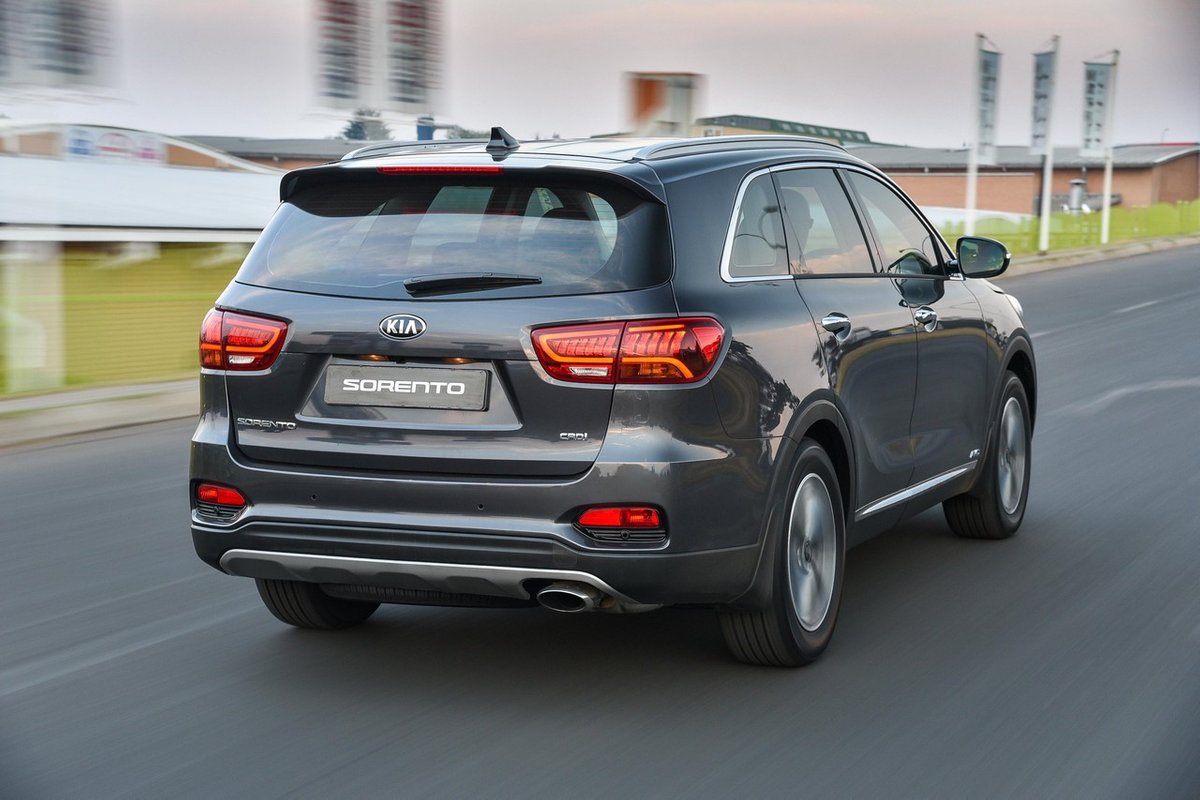 Best for
The family road trip in comfort and refinement
We Love
Massive interior space, efficient motor and decent seating for passengers 6 and 7
Not so sure
Uninspiring interior, seven-seater option only available with all-wheel-drive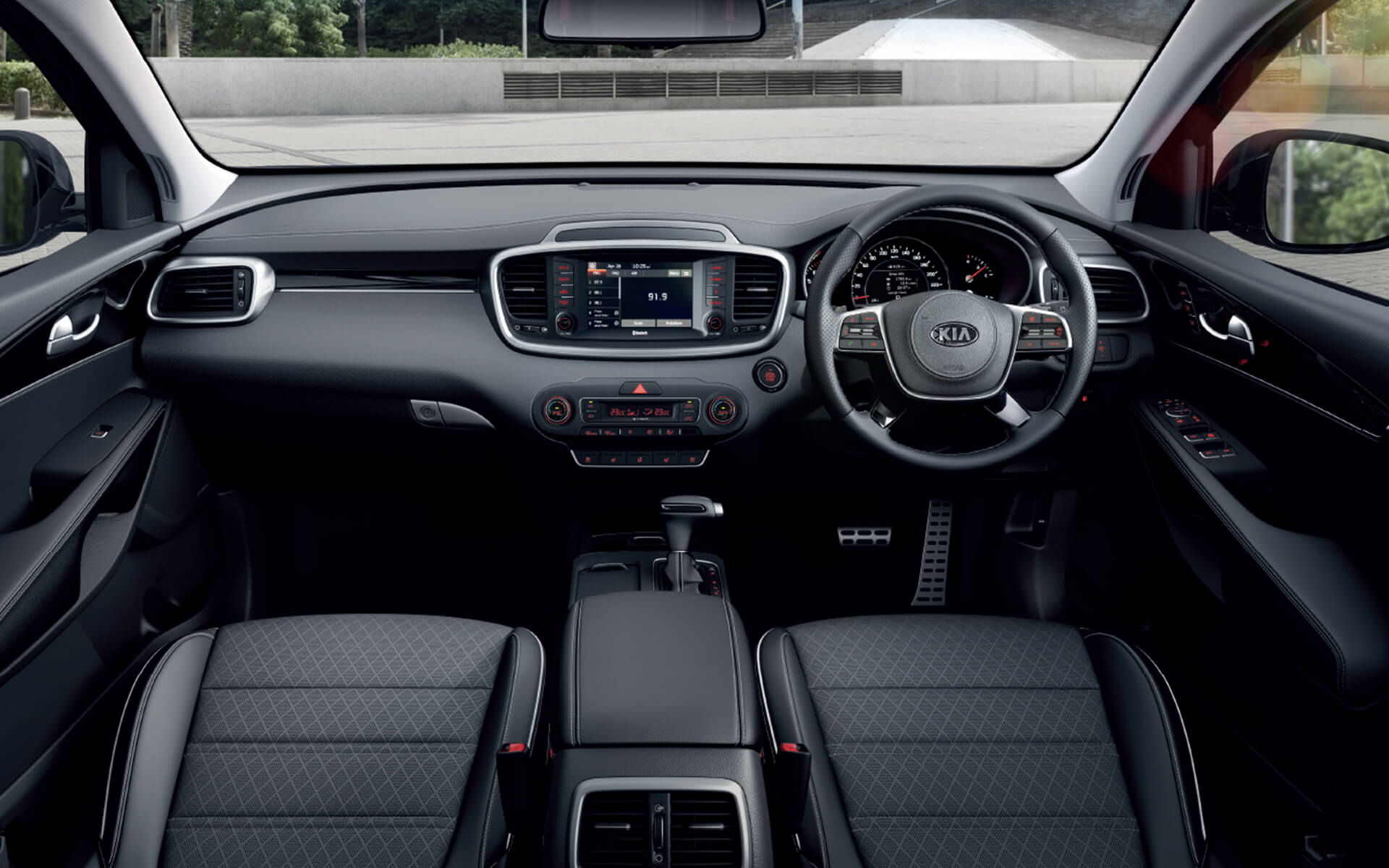 FIGURES
Model – Kia Sorento 2.2 CRDi AWD EX
Engine – 2 291 cc, 4-cylinder, turbo diesel
Power – 147 kW @ 3 800 rpm
Torque – 440 Nm @ 1 750 rpm
Tyres – 235/60/R18
Fuel Tank – 80 l
Economy (claimed)– 7.8 l/100 km, 170 g/CO2
Gearbox – 8-speed auto
Service plan – 5 year/ 90 000 km
Price (from) – R 654 995
Ford Everest
The Everest is in many respects the modern take on the bakkie-based SUV, and in Limited guise it comes with all the bells and whistles, opt for the lesser XLT and you and your wallet will thank us later. The Everest uses a permanent all-wheel-drive system and off-road toys like a low-range transfer case, a locking-rear differential and selectable off-road drive modes, making it a very capable bundu-basher. Not only is it impressive on the rough stuff but it also excels on road, too. Based on the Ranger albeit with a revised suspension setup, the Everest drives like a car with light steering, good body control and a rigid construction that'd be difficult to say was indeed based on a bakkie platform. Unlike the low-stress 3.0-litre in the MU-X, the new 2.0-litre bi-turbo works hard and smart churning out 79 kW per litre and a maximum of 500 Nm. It uses a high-tech 10-speed automatic which allows for seamless progress and decent efficiency for a vehicle of its size while making sure that the available oomph is there at all times. The interior is modern and Ford's Sync 3 infotainment system in conjunction with dual TFT screens on either side of the speedometer make accessing your phone and other trip features a pleasure. For the price, there are a few hard and scratchy plastics and the third-row of seats is a child-only zone. Regardless, the new engine is strong and refined, while the ride is commendable on the street and off-road capability is exceptional.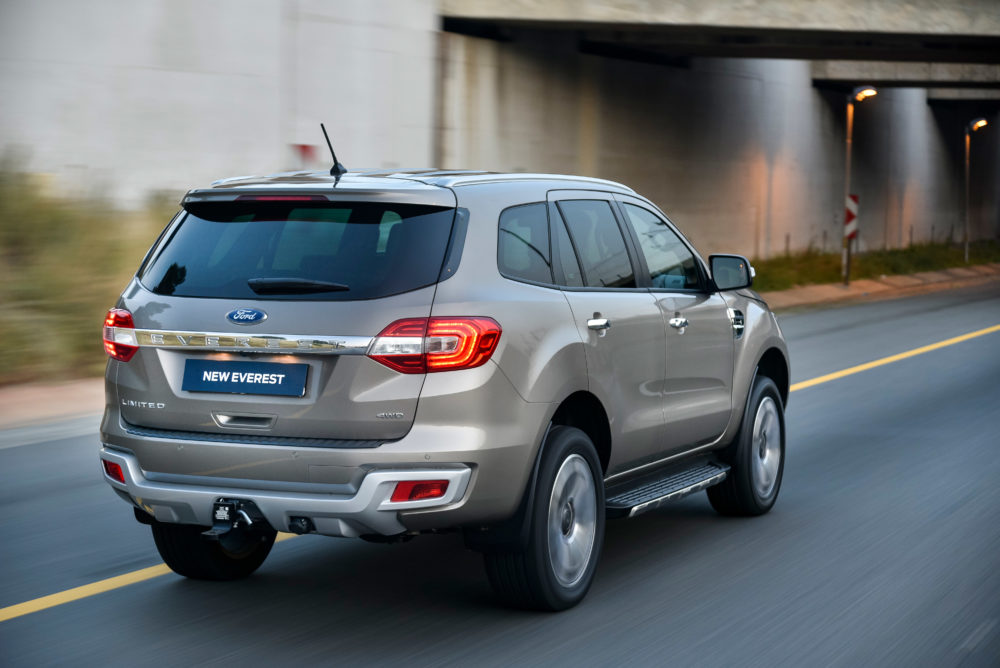 Best for
Well-sorted suspension on and off road, modern yet mucho
We Love
New drivetrain, modern interior, off-road prowess
Not so sure
Limited model is expensive, some poor-quality materials inside
Model – Ford Everest 2.0 BiT Limited 10AT 4WD
Engine – 1 996 cc, 4-cylinder, turbo diesel
Power – 157 kW @ 3 750 rpm
Torque – 500 Nm @ 1 500-2 000 rpm
Tyres – 265/50/R20
Fuel Tank – 65 l
Economy (claimed)– 7.6 l/100 km, 201 g/CO2
Gearbox – 10-speed auto
Service plan – 6 year/ 90 000 km
Price (from) – R 776 500
BMW X7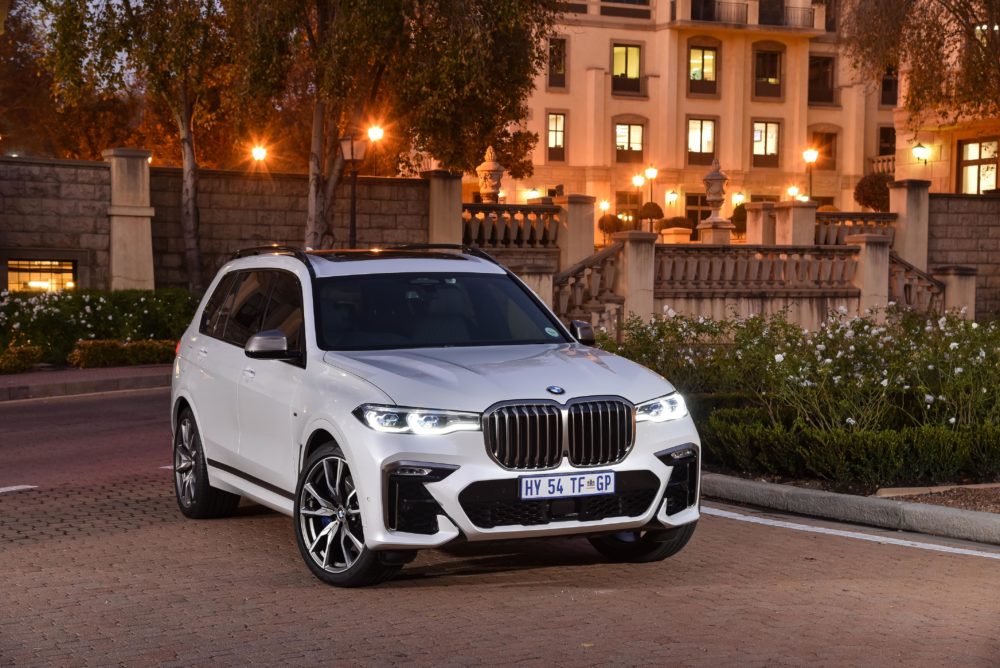 The gargantuan BMW X7 is a Bavarian castle on wheels with seven plush pews to relax and enjoy watching the scenery outside whiz by. In M50d specification it is a massive middle finger to diesel naysayers around the world. The inline six-cylinder motor makes do with no less than four turbochargers, two low-pressure and two high-pressure units allowing for potent low and mid-range grunt. The result is 450 Nm available from only 1 000 rpm with maximum torque of 760 Nm and the implied promise of drinking only 8.8 l/100 km. The X7 offers utter refinement at speed and the latest in BMW luxury and technology. This M Performance model wants to remind customers that the two-tonne barge can still (sort of) handle like a BMW should. With only a light press of the accelerator it'll surge past slower moving traffic, and in the bends the four-wheel steering, self-levelling suspension and M differential keep the tyres firmly in contact with the road. It may be awe-inspiring in many areas but what it does best is getting other road users' attention. The looks, size and opulence all make a statement and a very cash intensive one at that. It's completely unnecessary, a Land Rover Discovery will do the same job, but this 50d is one you buy with your heart and not your head. The regular 30d is perfectly adequate and lets not forget to mention the stellar X5 comes with the option of seven seats, too. It's the biggest BMW ever made and that's worth bragging about.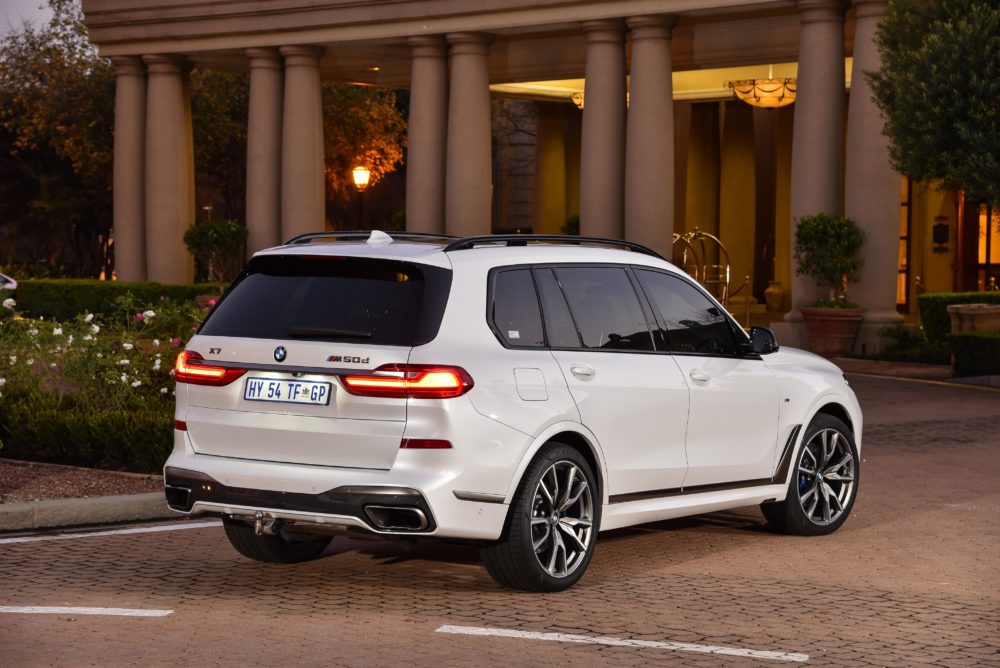 Best for
Showing the world that you've made it
We Love
Gutsy motor for high-speed cruising, luxury and refinement
Not so sure
Abominable looks and that price is before options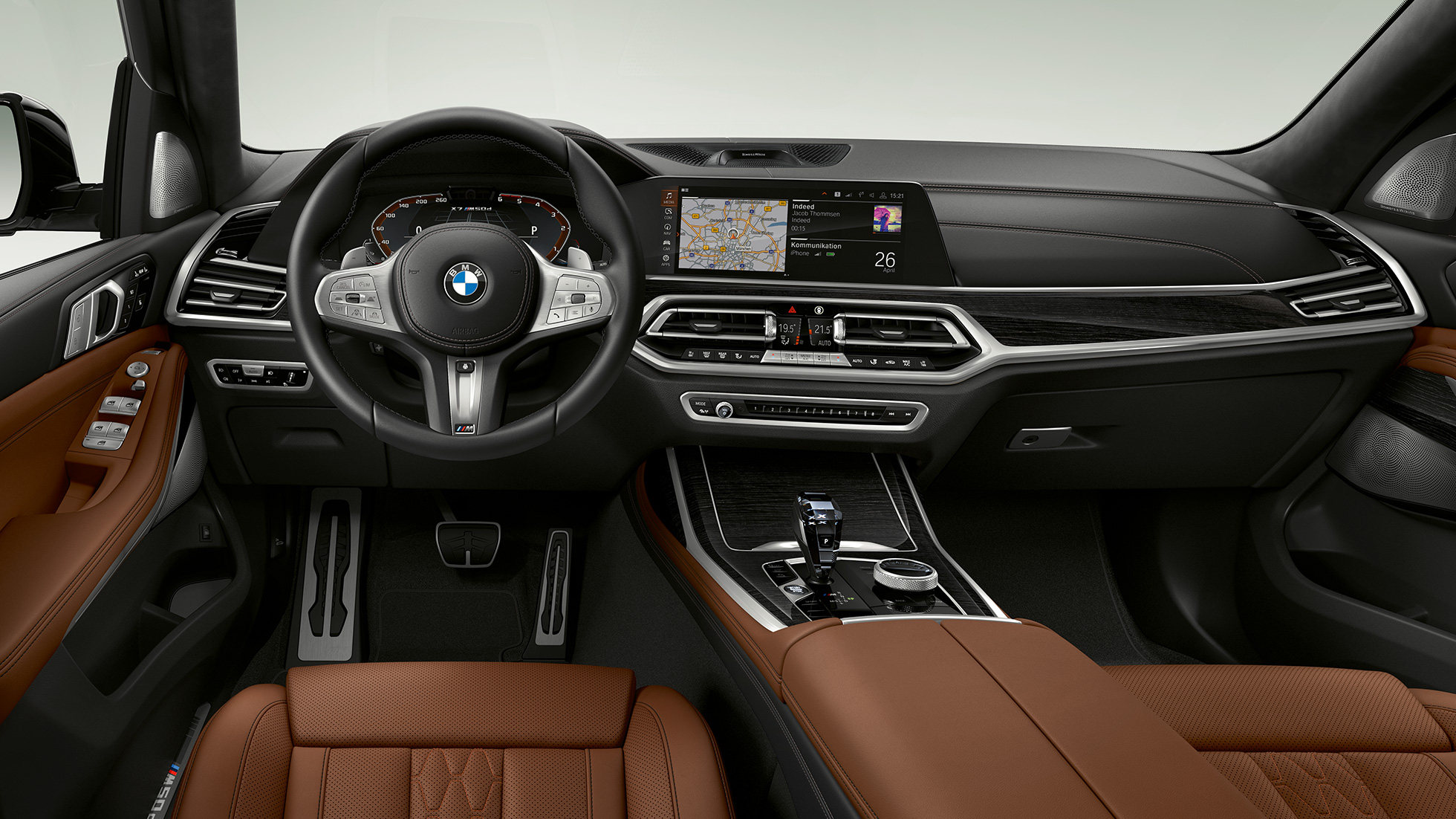 FIGURES
Model – BMW X7 M50d
Engine – 2 993 cc, 6-cylinder, quad-turbo diesel
Power – 294 kW @ 4 400 rpm
Torque – 760 Nm @ 2 000-3 000 rpm
Tyres – 285/45/R21
Fuel Tank – 80 l
Economy (claimed)– 8.8 l/100 km, 192 g/CO2
Gearbox – 8-speed auto
Service plan – 5 year/ 100 000 km
Price (from) – R1 853 200
Verdict
So then, which should you have? The Mahindra is a very compelling proposition for the money and is a viable alternative, but with cheap interior finishes and looks only a mother could love it's left floundering in the company. The BMW X7 is desirable, but only to those that can afford it, and for that we can't allow it to win here. That's not to take away from the eye-widening shove provided by that diesel powerhouse though. We're left with the family-Friendly Kia Sorento and two bakkie-based SUVs. If you and the family desire tackling some seriously tough off-road tracks, the MU-X and Everest are the obvious choices. With a rear diff-lock on the Everest making it the one to have when the going gets really slippery. The Sorento can tackle some gravel and sand driving but that's bout it. The MU-X is practical for people and stuff, but feels heavy and dated, whereas the Sorento is even better when it comes to passenger comfort and space. If you don't need the serious off-road capability it's the one to have. However, the more affordable Sorentos don't offer seven seats, which is a shame. With a wide variety of engine options and specifications, it's the Everest that comes out on top in this Pitted. It rides well and looks good, too. The top-spec Limited model is expensive but feels worth every extra penny on the road. Ford it is.