Alfa Romeo's Giulia sports sedan and Stelvio SUV have been updated for 2021 and these latest versions have just landed in Mzansi.
The Giulia's all-aluminium engines remain the same, but are now Euro 6b-final compliant and have added power over the outgoing 147 kW version. The 2.0-litre turbocharged power units now offer 206 kW and fuel consumption is claimed at 8.4 l/100km on the combined cycle. Power is transferred to the rear wheels via an eight-speed automatic transmission and carbon-fibre drive shaft.
The ultimate sports sedan – the Giulia QV – also receives model-year updates. It's 375 kW bi-turbo V6 engine remains and should catapults the Giulia up the road to 100km/h in just 3.9 seconds before heading on to a top speed of 307km/h.
The Giulia QV is equipped with the exclusive Alfa Chassis Domain Control unit and innovative Alfa Active Suspension, the system continually and actively controls the suspension and shock absorbers guaranteeing impeccable handing and comfort. With the exclusive AlfaLink technology: up front it has a double wishbone system with "semi-virtual" steering axis, with a four-and-a-half link Multilink system at the rear.
The same sporty imprint, with a touch of typically Italian elegance, is found in the interior. Premium materials include carbon fibre, leather and Alcantara. The centre dashboard is dominated by the Alfa Connect 3D NAV 8.8-inch infotainment system. The system offers Apple CarPlay as well as being Android Auto.
Sharing the Giulia's dynamic platform, Alfa Romeo's Stelvio SUV features perfect 50/50 weight distribution, Alfa Romeo Q4 all-wheel drive architecture, best-in-class claimed power-to-weight ratios and innovative engine and driver technologies.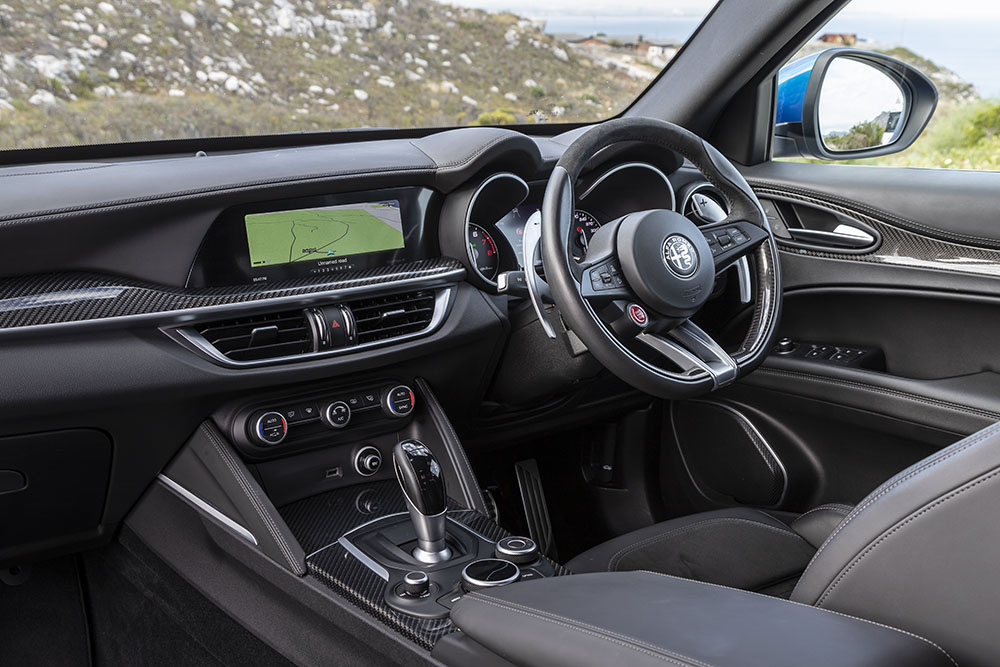 Finding the perfect balance between driving experience and safety, the Stevlio proudly displays five-star Euro NCAP safety credentials with a score of 97% for the protection of adult occupants; the highest score in its class. Credited for its host of innovative safety systems, which come as standard, the Stelvio features Alfa Romeo's segment-first Integrated Brake System, Autonomous Emergency Brake with pedestrian detection, Blind Spot Monitoring, Forward Collision Warning, and Lane Departure Warning.
Stelvio Quadrifoglio is equipped with the aluminium 2.9 V6 Bi-Turbo petrol engine which delivers maximum power of 375 kW at 6 500 rpm and generates a maximum torque of 600 Nm from 2 500 to 5 000rpm. This power plant is teamed with the specifically calibrated eight-speed automatic transmission that allows gear shifts in just 150 milliseconds in Race driving mode. It accelerates from zero to 100km/h in just 3.8 seconds and will storm on to a top speed of 283 km/h.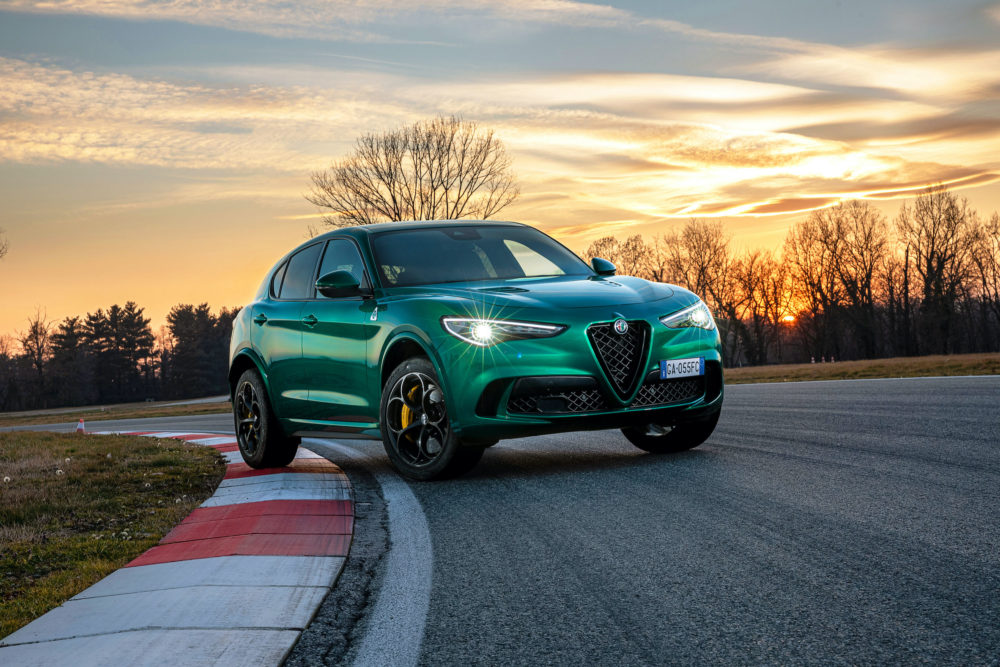 The new Alfa Romeo Giulia and Stelvio comes with a 5 year/100 000km full warranty and maintenance plan as standard.
Pricing:
Alfa Romeo Giulia Veloce: R 989 900
Alfa Romeo Giulia QV: R 1 599 900
Alfa Romeo Stelvio Super: R 1 159 900
Alfa Romeo Stelvio Q: R 1 749 900