Our buyer this month is ready to drop their hard-earned cash on their first car and new cars are simply out of their price range. Our Assistant Editor is given a budget of R90 000 to find the best-used alternatives that first-time car owners can consider. Take note especially those who enjoy an engaging drive.
The safe option
2015 Suzuki Swift 1.4 GLS
This little Japanese supermini played a significant role in changing the local perception of Suzuki's automotive products, as such there are many to choose from on the second-hand market. Light, efficient, mechanically robust and thoughtfully equipped the third-generation Suzuki Swift is tailored for the first-car buyer that enjoys getting behind the wheel. It's easy on the pocket and also fun to drive the Swift delivers with a rev-happy 1.4-litre motor producing 70 kW a slick 5-speed manual as well as a nimble chassis. Weighing in at only 1 065 kg the motor seldom needs to work hard but you'd enjoy revving it out to redline. In GLS specification it offers features like Bluetooth connectivity, cruise control, LED daytime running lights and 16-inch alloy wheels. There are plenty lesser-specced GL models available on the classifieds but those are still worth a look and could cost a little less. Rear passenger space is only adequate and the boot is comparatively tiny, but that's not enough to dissuade us from recommending this Suzuki though.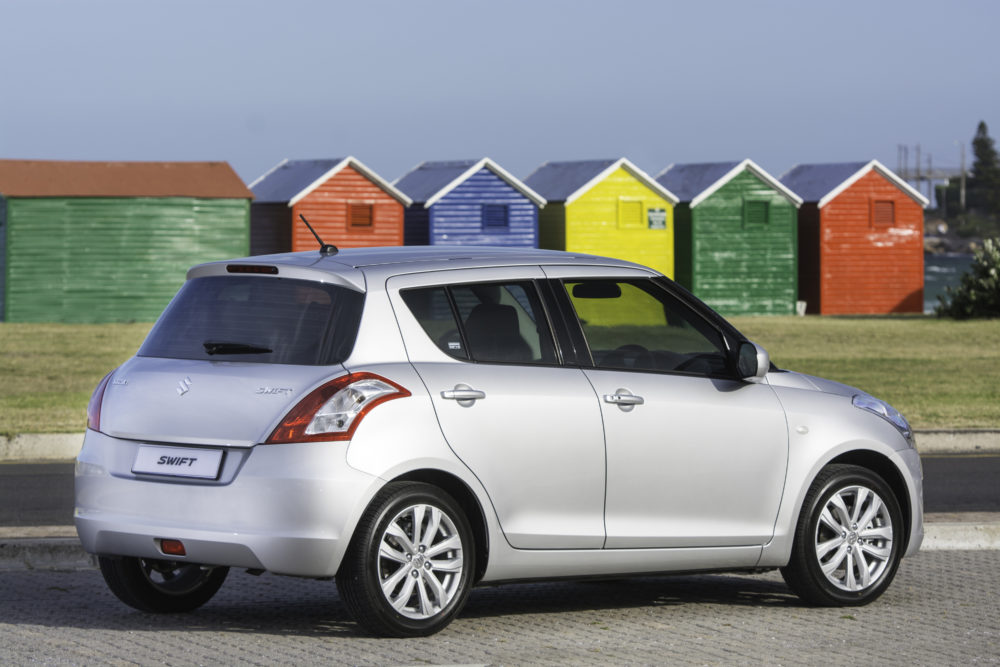 Price – R89 950
Power – 70 kW @ 6 000 rpm
Torque – 130 Nm @ 2 400 rpm
Transmission – 5-speed manual
Performance – 9.9 sec 0-100 km/h
Fuel consumption – 5.5 l/100km
CO2 emissions – 147 g/km
Luggage capacity – 211 – 533 l
The good option
2015 Ford Fiesta 1.4i Trend
The 6th generation Ford Fiesta was a roaring success for the Blue Oval internationally and local rental-car companies bought them too. As such, low-kilometre base model Ambiente versions mostly are common on the second-hand market. We, however, managed to find the mid-range Trend model within our budget. This era of Fiesta came as a funky replacement to the dull model before it with a sharp exterior nearly identical to the Ford Verve concept on which it's based. The fun aesthetic translated to how it drove and for a sensible supermini the Fiesta proves that they needn't be dreary to drive. Sharp steering, a slick gear change, decent levels of grip and a playful chassis balance are all accounted for. Driving dynamics aside, boot space comes in at a handy 248 l with the boot cover in place and unlike newer turbocharged engines service intervals are 20 000 km apart, great for keeping those servicing costs down in the long run. The Fiesta was the class-leader of its time and one that can be had as a bargain today.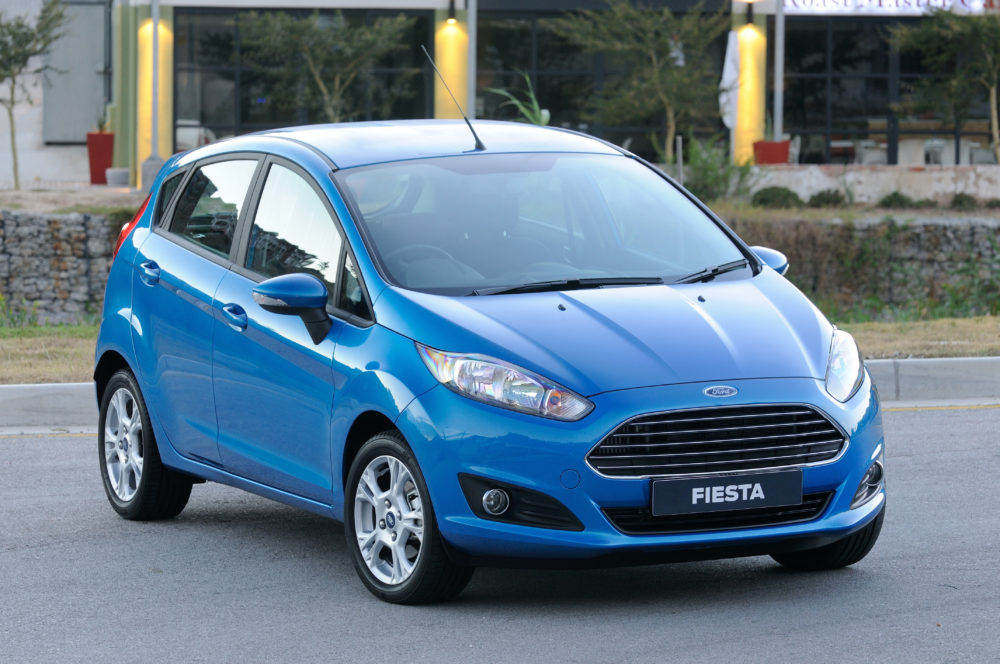 Price – R90 000
Power – 71 kW @ 5 750 rpm
Torque – 125 Nm @ 4 500 rpm
Transmission – 5-speed manual
Performance – 12.2 sec 0-100 km/h
Fuel consumption – 5.9 l/100km
CO2 emissions – 138 g/km
Luggage capacity – 284 – 974 l
The wild-card option
2009 Renault Twingo RS
Small, light and agile the Renault Twingo RS may be the smallest car here but it is a little firecracker to drive. Sure, 98 kW doesn't sound like a heap of power and one shouldn't expect anything to happen before 4 500 rpm. This infact, is the genius of the Twingo RS it's just like any other city car when mooching about town. It just happens to have heavily bolstered bucket seats and a tort RS-derived suspension. Variable valve timing on the inlet cam of the naturally-aspirated 1.6-litre motor, a redline of 7 000 rpm on the dash-mounted rev counter and a snappy 5-speed gearbox ensure that this little terrier needs to be pushed hard to put a smile on your dial. Weighing in at a feather-light 1 049 kg and with that well-engineered suspension the Twingo RS has the dynamic character of a cartoon car. It is only available as a two-door four seater so practicality is not high on the priorities list here. Beware of examples that haven't been well maintained though as these cars are rare locally and mechanical parts could be very difficult to find and costly if imported.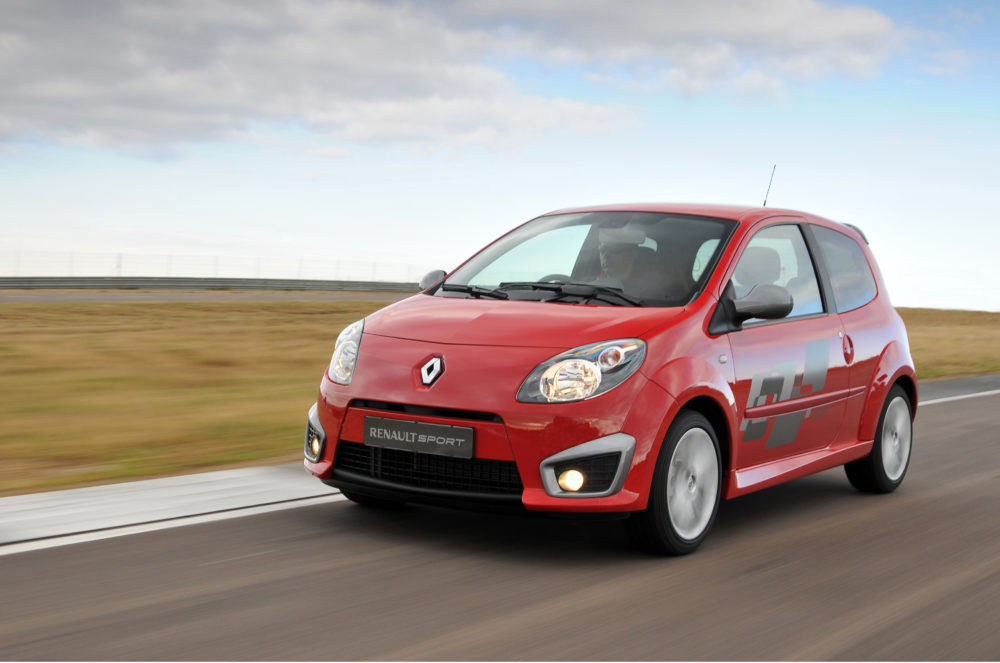 Price – R89 995
Power – 98 kW @ 6 750 rpm
Torque – 160 Nm @ 44300 rpm
Transmission – 5-speed manual
Performance – 8.7 sec 0-100 km/h
Fuel consumption – 6.7 l/100km
CO2 emissions – 155 g/km
Luggage capacity – 165 – 285 – 959 l
Also consider
2009 Honda Jazz 1.5 Elegance
It may look like the car your oupa drives, but put your scepticism aside. The Honda Jazz is one of the best thought-out small cars around and makes do with some hand-me-downs from the larger Civic of the era. For its exterior dimensions you'd have a hard time finding an equivalent car with as spacious an interior. The design both inside and out, certainly won't knock your socks off, however, everything is functional, well presented ergonomically and importantly built to last. If you place a value on reliability and peace of mind, then the reputation of the Jazz alone should allow you to sleep peacefully at night. In the driving stakes it's not bad to pilot, as long as you're not driving the automatic CVT model, however, those have been proven to be reliable too. Seeing that the stereotype of older folks owning a Honda Jazz is mostly true, low milage examples can be found albeit with the possibility of some minor bodywork needed.