We gather nine high-performance cars all staking a rightful claim to MOTOR's inaugural Speed Test crown, the sum total of which adds up to 3 210 kW and R20.8 million! Ray Leathern and Damian Adams are your adjudicators on this three-day hellraiser on the Western Cape's finest driving road.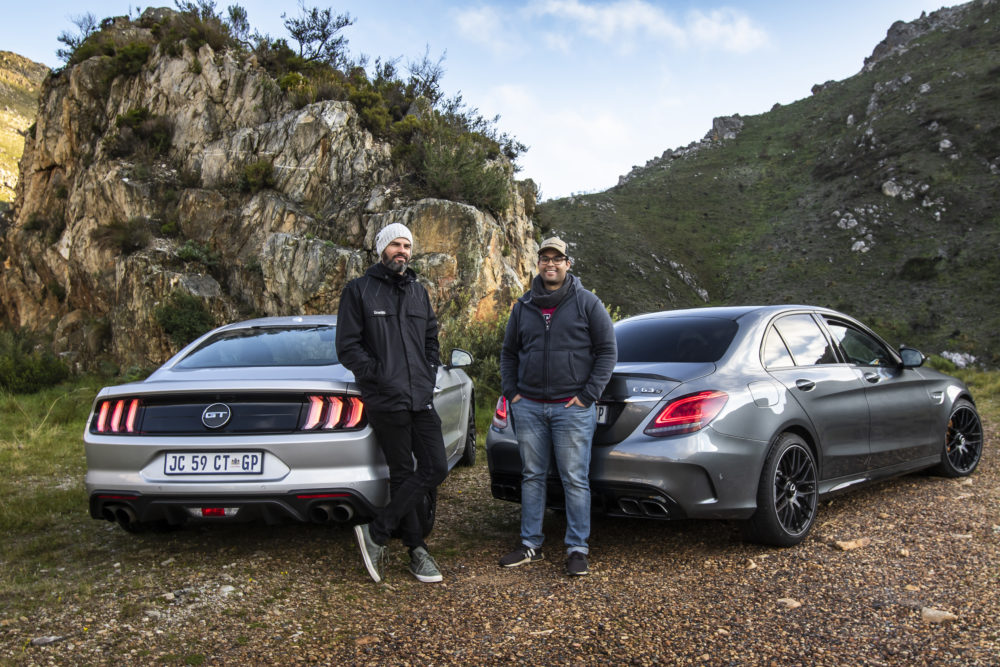 You cut to the chase on the masterful Franschhoek Pass just south of the wineland town of the same name – arguably the jewel among the countless gems of Western Cape driving topography. Sometimes the gods of speed choose to smile upon you a little brighter than usual and due to heavy rains and a freakish landslide in the preceding months, the pass just so happens to be closed to the usual tourist traffic lopping out of Franschhoek. So, when approached from the southern, Theewaterskloof Dam side, a deserted 16 km stretch of driving nirvana awaits. It's our own personal race track for Speed Test.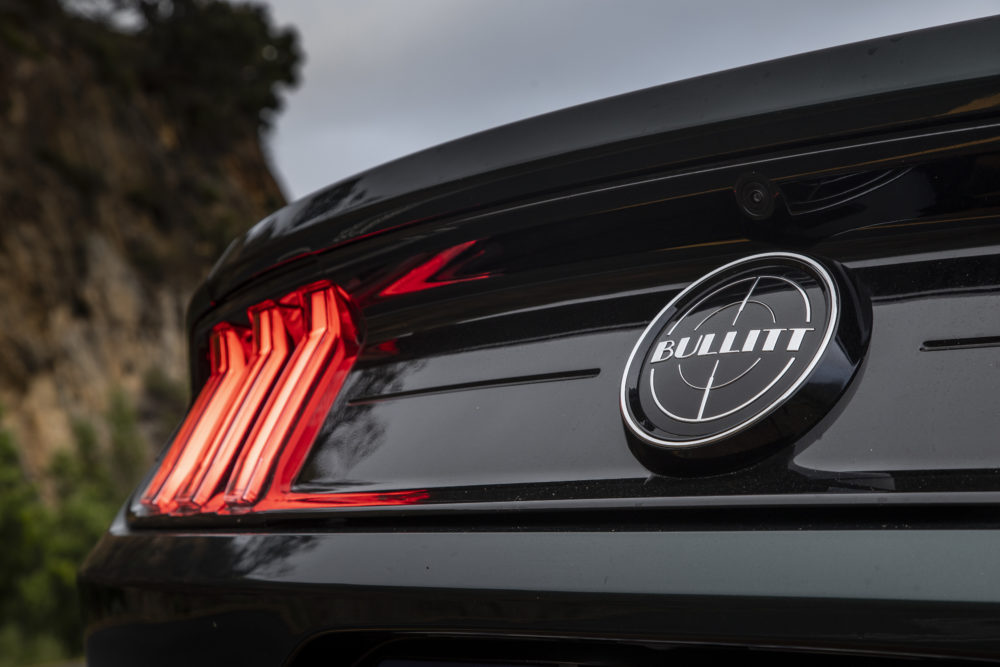 Nine completely contrasting shapes – from a modest hatchback, an American muscle-car legend and a host of cunning rear-drive powerhouses, to JDM royalty and the fiercest European supercars – each scythe at high speed along the picturesque stretch past the dam towards the business end of Franschhoek Pass. Transport riders on horseback back in the 1800s used to crack their whips to warn oncoming traffic around the perilous hairpins of this pass. Today there's no need for such niceties as this hellish-quick squadron sends full-throttle bellows and barks into the once still valley air like a beautifully orchestrated symphony of internal combustion.
But let's not get ahead ourselves, shall we. This is serious business. Let the testing begin…
Less than R1 million
Johnny be good – Ford Mustang Bullitt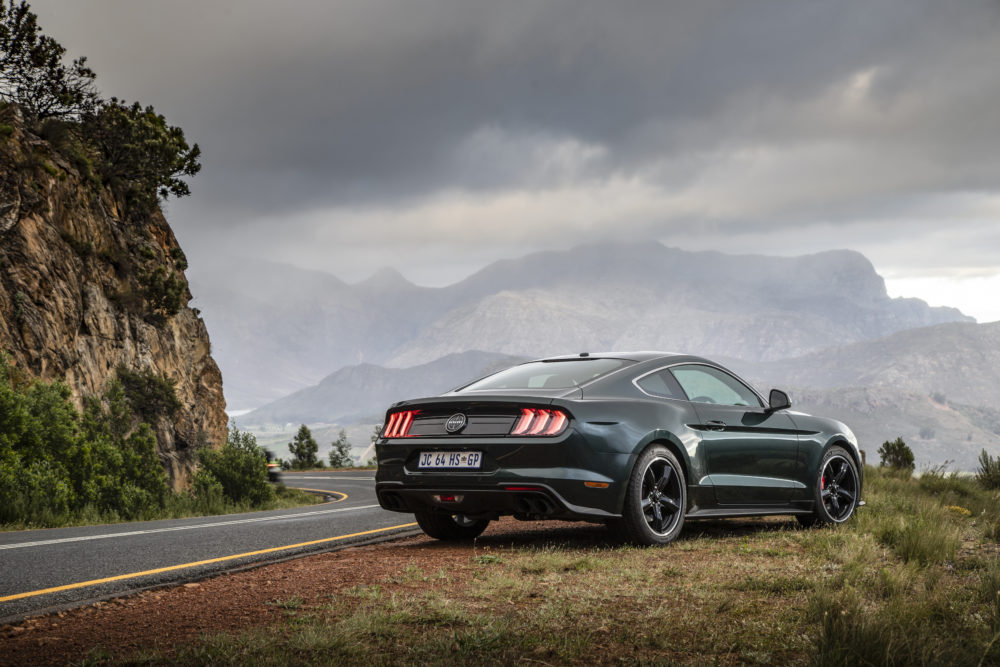 A great driver's car comes in many shapes and sizes, and our Speed Test doesn't fixate only on dynamics, grip and handling; although a good dose goes a long way of course. No, that's where the brash piece of American pig iron punches its way right through. Despite its size, comfort and proclivity for playing the fool (there's a dedicated line lock and Drag Strip mode in the drive-mode selector), the Mustang Bullitt is a properly involving driver's car. It is fast, with 338 kW and 529 Nm from a naturally aspirated 5.0-litre V8 that revs cleanly to 7 500 rpm. It will pass anything on the road, except a petrol station that is; and it even embarrassed the AMG C 63 S from the lights in one particular drag race, as it leapt off the line like a spring lamb while the turbocharged and launch control-assisted German fought a losing battle with its own traction control. Real Rocky IV stuff! Better still, the Mustang's performance is long-legged so you can relish the linear throttle response on a quick drive. And this top-of-the-pile Bullitt is like American muscle unplugged with a simple six-speed manual gearbox that in the right context feels like the antidote to some of the overly sanitised two-pedal transmissions on the market these days. Two new components make the difference in the Bullitt makeover, and both come from the flat-crank V8 voodoo of the Shelby GT350: one is a high-flow intake manifold, the other is a larger 87 mm throttle body. When the raw V8 bark fills the cabin, you really can't help but feel like Steve McQueen romping around the streets of San Francisco.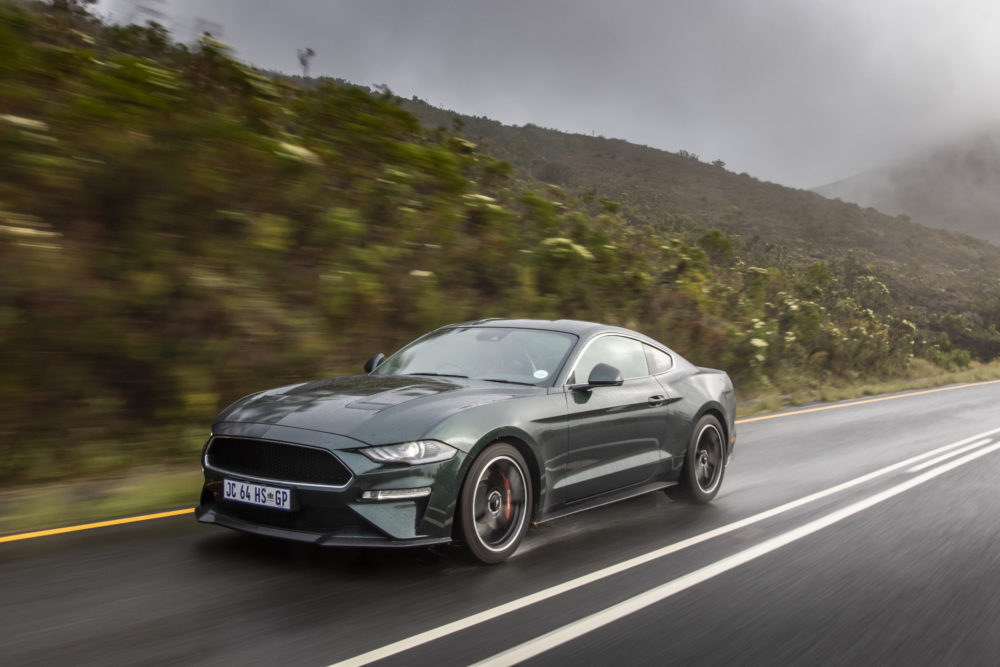 But this is Franschoek Pass, not San Fran, and there are more demanding corners than the film's 90° junctions, but even here the relatively unsophisticated pony car's front end responds surprisingly well to input with weighty steering and good grip from its Michelin tyres. Tap the pony button on the steering wheel to engage your preferred driving mode – I enjoy Race despite the warning that it's not meant for public roads – this disengages traction control meaning you can light up the rear tyres like a pair of Catherine wheels whenever the mood strikes. Does it matter that some of the other cars corner flatter and truer, and pull a gap on the 'Stang through the corners? Not in the slightest, nor does it rankle that after one run down the pass the brakes felt ready to throw in the towel. Anyone who emerged from the Bullitt during the course of testing always did so with a massive smile on their face. It is a genuine riot to drive. While it isn't quite dynamic enough to vie for genuine Speed Test honours, for the money you won't find more rear-drive fun anywhere.
In a nutshell –
Ford Mustang Bullitt
Highs
Less than a bar for an iconic V8 muscle car… Where do we sign?
Lows
Squishy brakes. It can't quite hang with the really fast stuff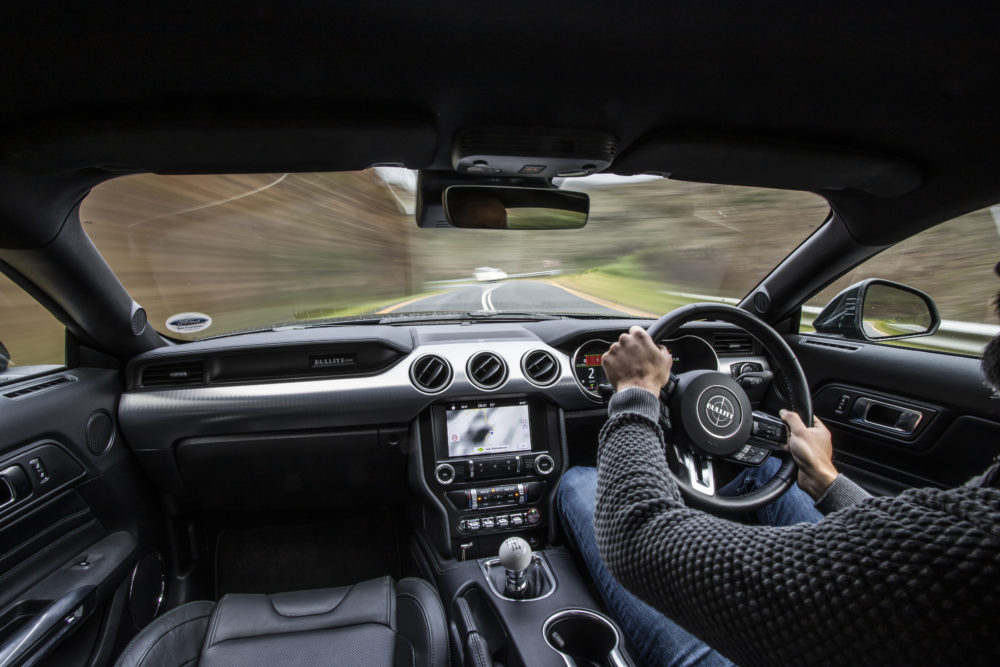 Figures:
Engine: 5 038 cc, 8-cylinder, petrol
Power: 338 kW @ 7 250 rpm, 529 Nm @ 4 600 rpm
Weight: 2 105 kg
Power to weight: 193 kW per tonne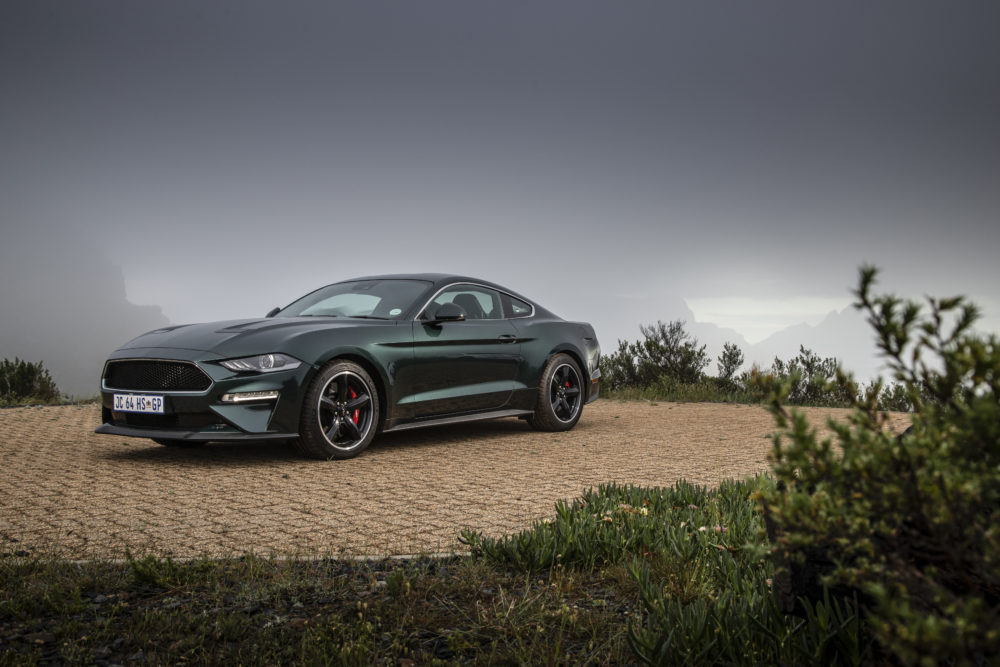 Performance:
0–100 km/h in 4.8 sec (claimed)
Top speed 262 km/h
Tyres: 255/40/R19 Michelin Pilot Sport 4 S
Economy: 13.4 l/100 km (claimed)
Transmission: 6-speed manual
CO2 emissions: 308 g/km
Priced from: R995 400
Special award: Hollywood icon
 Head over to part three of the MOTOR Speed Test here.