Like two rampaging Wildebeest butting heads at full speed, this is a battle of two double-cab heavyweights. The Mercedes-Benz X 350 d earns its top-of-the-pile status courtesy of a gargantuan V6 diesel engine and the sort of girth that creates sinkholes if left stationery in one place for too long. The new Ford 'sports truck', the locally assembled Ranger Raptor, is a natural-born heavy hitter in both machismo and driveability. Both court nearly a million bucks for the privilege of their high driving positions and get-out-of-my-way attitude, but which gets the MOTOR stamp of approval? Blood. Will. Spill.
Fast track
Mercedes-Benz is clearly not risk-averse when it comes to new product. No one asked for a Mercedes-Benz bakkie, but, hell, here it is, and boy have they copped some flack for it. And rightly so, even when deploying your best everything-is-awesome mindset, there's a plenty to rankle in the X-Class. Sharp details and freshly pressed crease lines are one thing, but its Ms. Piggy visage is hardly attractive – striking, yes – attractive, not so much. And lest we mention it's the size of medium-sized block of flats, so, enjoy hearing that radio aerial twang against the ceiling every time you enter an underground car park. It's a R900k+ Mercedes-Benz so at least the engineers would've gone to town in the cabin, we bet you're thinking to yourself. Ehm, no. The limitations of the Nissan Navara's electrical architecture upon which it's based mean't very little was changed, and fans/owners of other Benz products are likely to be as underwhelmed as we were –  the look and feel could be that of a workhorse bakkie, honestly. The small starter button is tucked away low on the dash unlike any other Mercedes-Benz, the wide transmission tunnel has almost zero storage capacity for mobile phones, keys, coffee cups, etc. Many dashboard parts feel flimsy and, more than that, there's just a lack of warmth or opulence to the X-Class.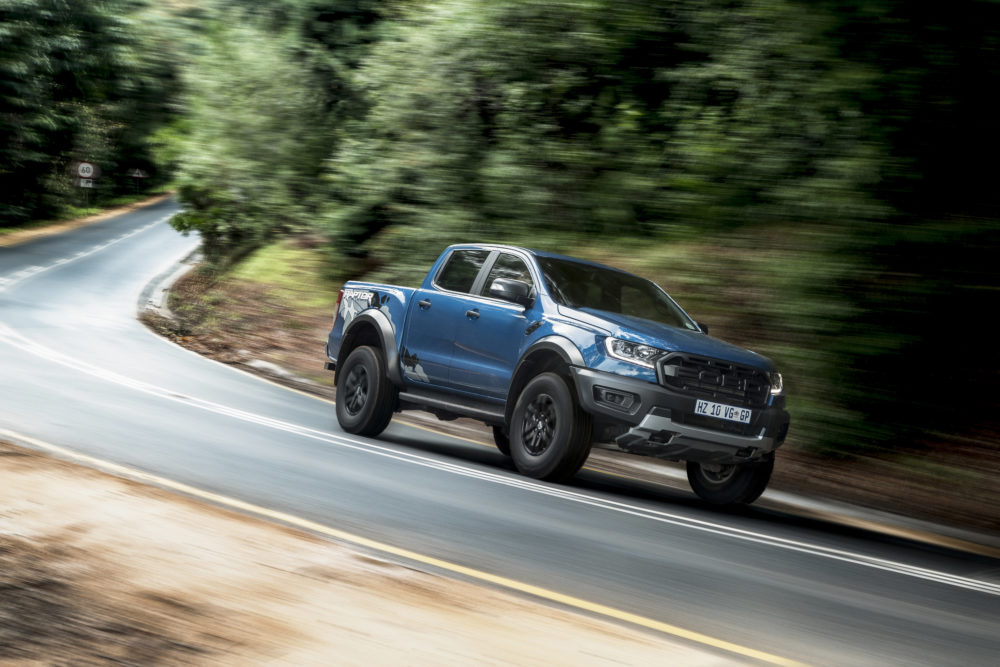 With these inferiorities, the X 350 d wouldn't stand a chance out in the wild if it didn't pack a serious muscle factory under the bonnet. Featuring the firm's full-fat V6 turbo diesel, 190 kW / 550 Nm motivates the big X-Class to relatively blistering acceleration in the bakkie realm, accompanied by a soundtrack like an enraged animal. 0-100 km/h in 7.5 sec is what we recorded but just as noteworthy is enough mid-range thrust to unsettle your gut. Driving it flatout makes it pretty thirsty, however, Mercedes-Benz claims single-digit consumption figures, but you're unlikely to ever drop below 10 l/ 100 km in the real world. Then again, you don't buy the biggest behemoth in the range to worry about fuel consumption, surely? You buy it for the imperious, all-conquering feeling only this X-Class can convey.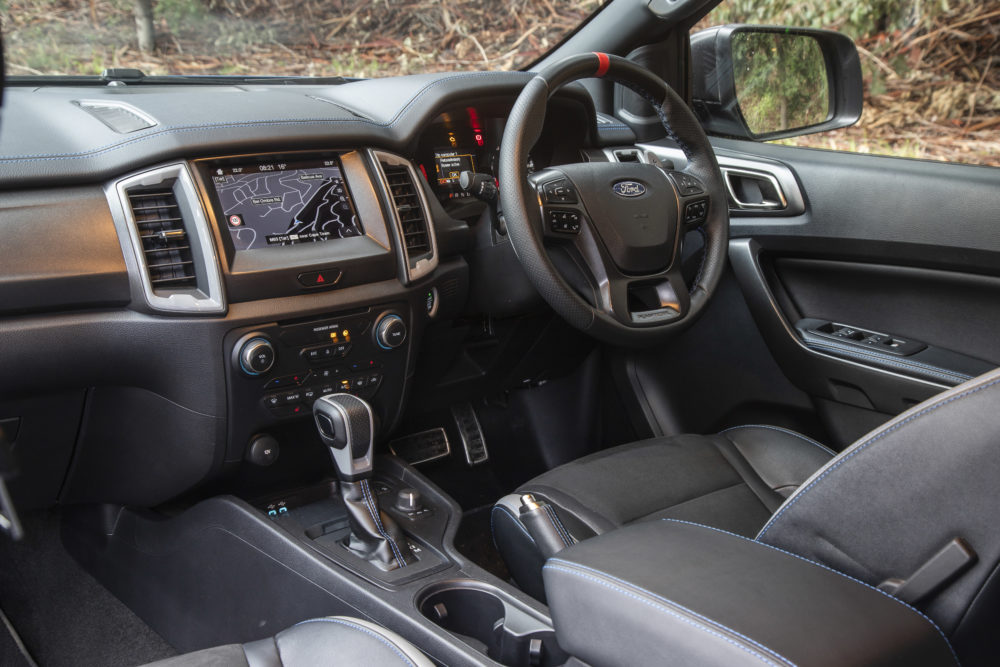 Wide track
Something which you get in equal measure from the Ranger Raptor, except through a totally different delivery system, you could say. The Ranger Raptor suffers no identity crisis like the Mercedes-Benz. It's a badass Ford truck through and through, and a worthy baby brother to the F-150 Raptor sold overseas, which it more or less mimics visually. This bakkie is all about switching things up. Looks wise, the proportions have been altered (it's 70 mm wider) and there's a think sump guard up front for improved durability, but also just to make it look cool. The thinking from Ford Performance on this one seems to have been – eliminate all the unsavoury bits of your atypical double-cab bakkie and replace them with top-notch components. Rear leaf springs gone, Watt's link suspension in, with a set of brilliant FOX shocks all around thrown in for good measure. This rear setup lessens the towing and stowage capacity a smidge, but who ever needed to tow and stow 3500 kg and 1000 kg every single day? It's all the better for having a silky smooth ride on tar, gravel, Mars, you name it. And the handling off-road is utterly sublime. Take us at our word, get your hands on a Ranger Raptor, flick it into two-wheel drive Baja mode (off-road sport handling) and prepare to have the best fun you've had with you clothes on for a long ol' time. This is largely down to the upgraded tyres, specially developed by BF Goodrich, that sport a tread pattern that could probably handle the surface of the moon. Miraculously, there's very little whine when you use them on the road, a common bugbear of chunky aftermarket tyres. Quite how Michelin/BF Goodrich pulled that one off, we don't know. Just don't ask how much they'll cost to replace.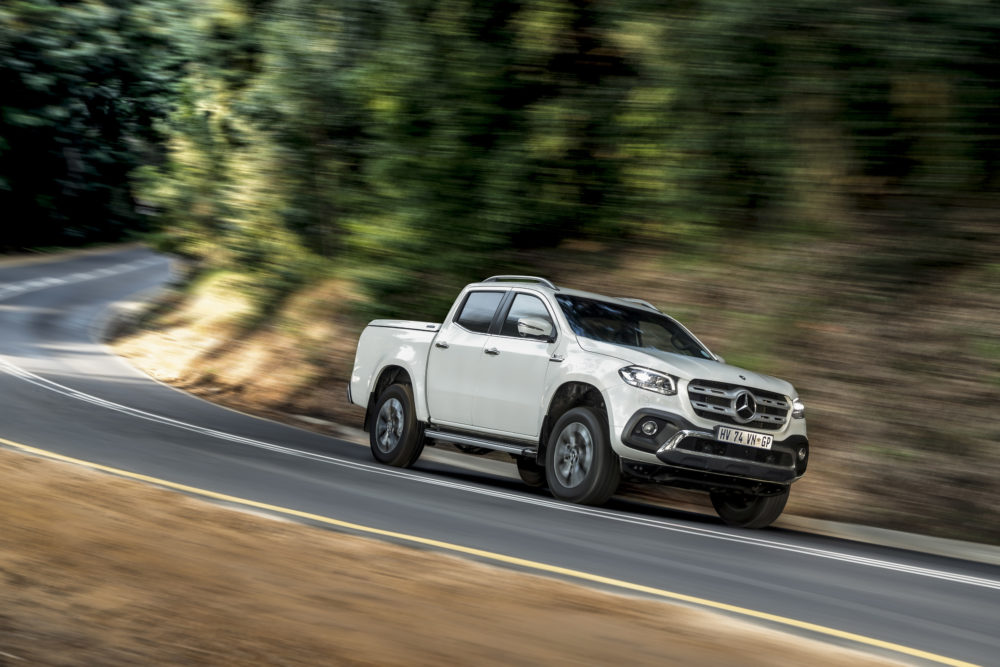 Unfortunately, the Ford loses some ground it so cleverly clawed ahead, due to a deficiency beneath the bonnet. There's no easy way to say this: the standard Ranger 2.0-litre twin-turbo diesel and 10-speed automatic is simply not befitting of a Ford Performance product. That's not to say it isn't torquey, versatile, drivable and surprisingly economical for its displacement, but lined up with the heavy hitting X-Class V6, it's left in a cloud noxious gasses as the Mercedes barrels to 100 km/h a full three seconds faster. 7.5 sec plays 10.5 sec. And it's the same deal throughout the rev range with the V6's additional power and torque. As the old adage goes, there is simply no replacement for displacement.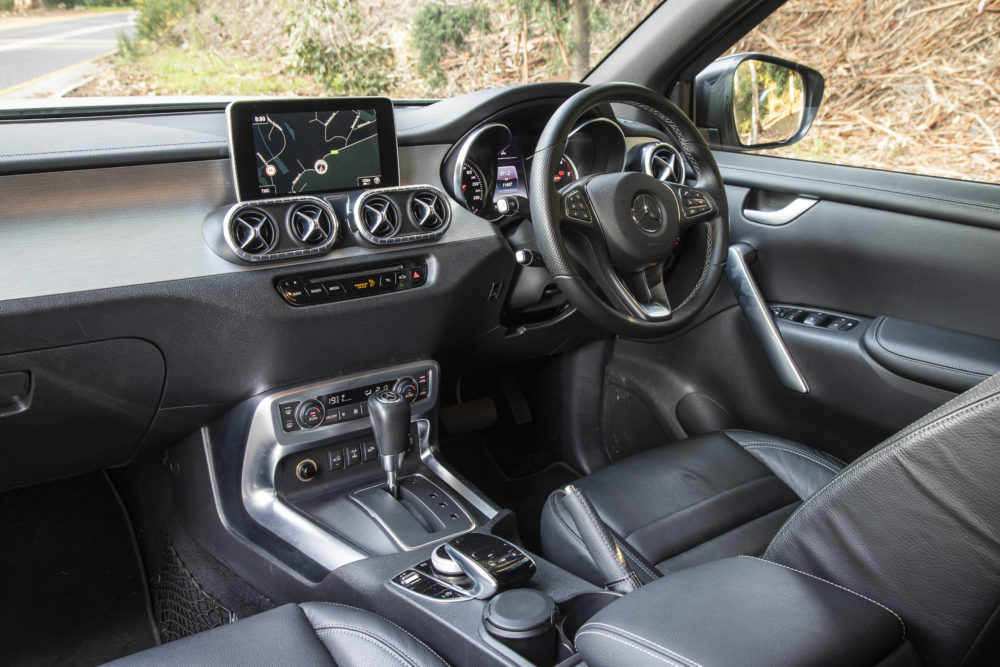 The final straw 
Slowly but surely double-cab bakkies have changed the landscape of South African motoring. They've changed from being mere commercial or family transport to serious statements of luxury and sporting intent thanks to these upgraded halo models. The differences between the Mercedes-Benz X-Class V6 and Ford Ranger Raptor are obvious to even the casual observer, but the margin grows larger still after spending time in each. The Mercedes-Benz's phenomenal performance fails to give it enough of an advantage over the superbly styled and riotously fun Ranger Raptor, which has the X-Class soundly beat in this halo bakkie shootout. Yes, a meatier motor would do the Ford well – in fact, the Merc's V6 in the Ranger Raptor would be about as good as off-road vehicles get – but since such a thing doesn't exist – the Ford gets our vote. Oh, there's one other massive issue. Mercedes-Benz, the makers of the X-Class, don't even believe in it anymore. After only selling 16 700 units in Europe, Australia and South Africa last year, it's going to cut its mounting loses and pull the plug on the X-Class ahead of schedule. A shame, really, the X-Class had so much potential.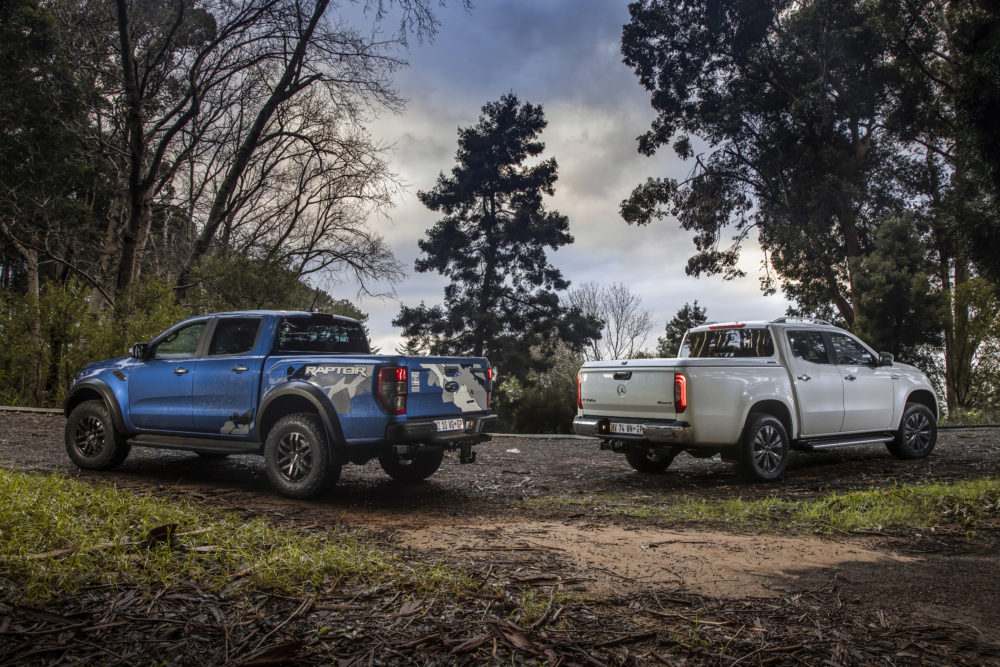 In a nutshell –
1st
Ford Ranger Raptor
Highs
Two-wheel drive Baja mode will change your life
Lows
Having to cough loudly everyone time someone mentioned the 2.0-litre beneath the bonnet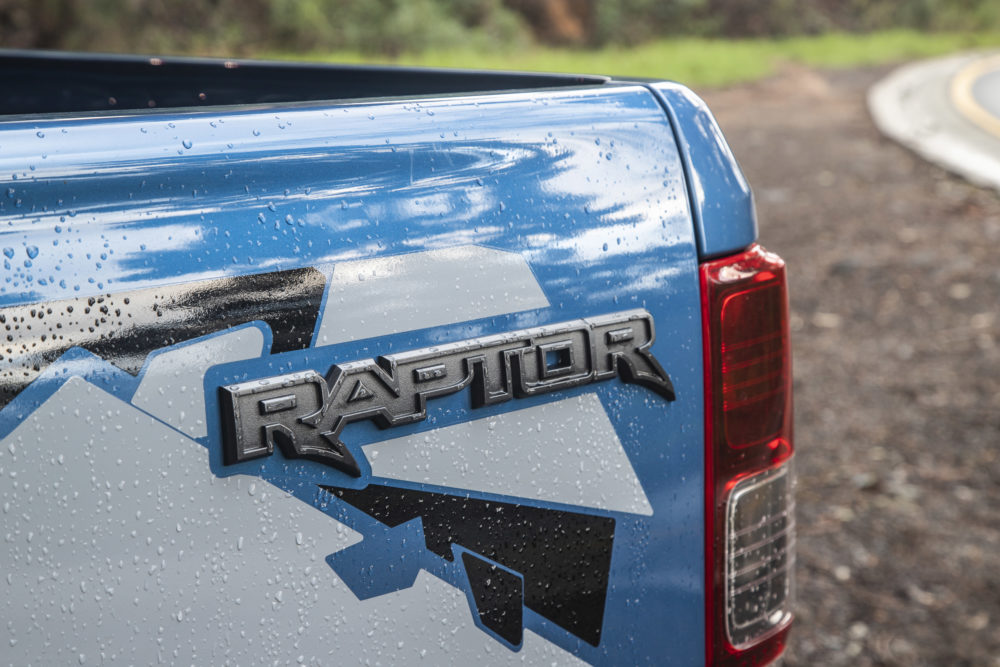 Figures
Engine: 1 996 cc, four-cylinder twin-turbo diesel   
Power: 157 kW @ 3 750 rpm, 500 Nm @ 1 500-2 000 rpm
Performance: 0-100km/h 10.5 sec, top speed 170 km/h
Tyres: 17-inch 285/70 R17 BF Goodrich KO2
Economy: 8.3 l/100 km (claimed)
Transmission: 10-speed auto
CO2 emissions: 220 g/km
Price: R786 400
In a nutshell –
2nd
Mercedes-Benz X 350 d
Highs
A V6 heart of darkness
Lows
The product of the most laughable badge engineering exercise in motoring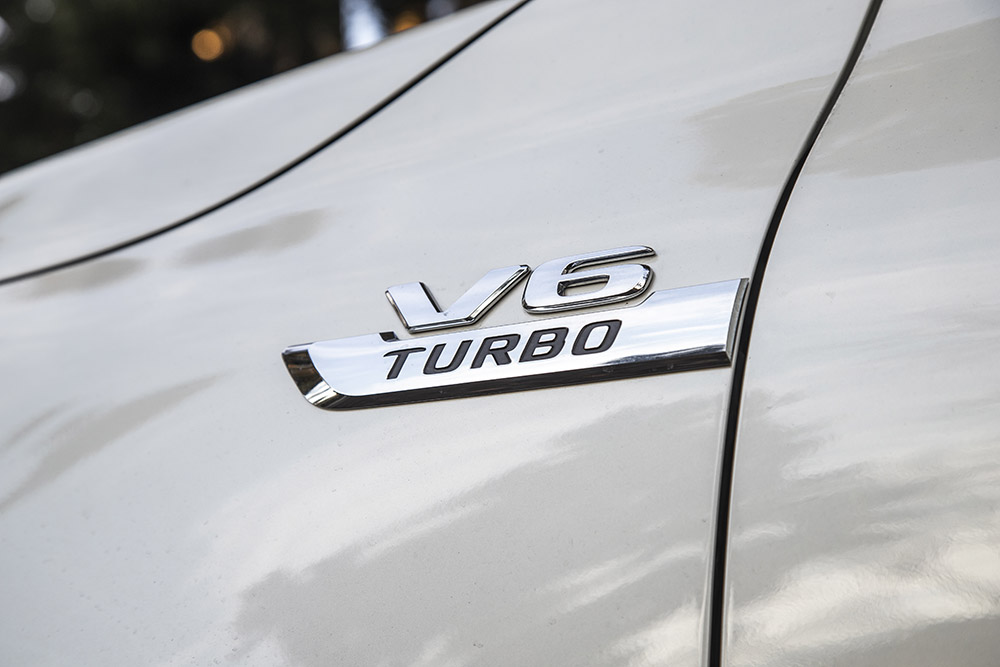 Figures
Engine: 2 987 cc, six-cylinder turbo diesel
Power: 190 kW @ 3 400 rpm, 550 Nm @ 1 400-2 200 rpm
Performance: 0-100km/h 7.5 sec, top speed 205 km/h
Tyres: 18-inch 255/60 R18 Continental PremiumContact
Economy: 9.4 l/100 km (claimed)
Transmission: 7-speed auto
CO2 emissions: 236 g/km
Price: R904 188