How does one end up testing one of Mercedes-AMG's latest halo models during a pandemic week? Well, it simply went like this… MOTOR Editor: I have my hands full. Any chance you can come around and pick up a car for testing? It's one of those AMG jobs. ME: Sure! Show me someone who wouldn't jump at the chance to get to know any Mercedes-AMG, let alone the latest of the breed. It's the deranged engineers from Affalterbach that are responsible for some of the most potent production cars currently on sale and they have an exceptionally passionate community of owners and fans.
The latest creation from the high-performance arm of Mercedes-Benz is the Mercedes-AMG GT 4-Door Coupé. It's a large 2+2 seater based on the underpinnings of the CLS and E-Class family yet it's designed to resemble the aggressive AMG GT sports car. The model we had on test was the 'entry-level' R2.1 million GT53 4-Door 4Matic+ coated in optional Iridium Silver metallic paint (R15 000).
To this author, it looks absolutely stunning at over 5 m long with its low silhouette hugging the asphalt. In GT 53-guise it's understated compared to the hardcore GT 63 S model yet it's still one of the most striking vehicles on sale even when coated in Silver paintwork. It's like one of those make-up influencers that do tutorials on a 'natural' look. You can tell that the exterior has been finely brushed-up but it's not entirely obvious at first glance. The front-end looks remarkably like the two-door AMG GT with the large grille housing motorised flaps that can open or close to improve fuel economy or let in air for improved cooling. Unfortunately, the vents on the lower reaches of the bumper are fake, and fake vents on an AMG is, unfortunately, a bitter pill to swallow. But I guess every manufacturer is doing it these days.
Down the side, a 'Turbo 4Matic+' badge decorates the fender and standard 19-inch alloy wheels shod in Pirelli P Zero rubber can be found at each corner covering large brake discs and bright yellow AMG-branded calipers. A strip of chrome encompasses the windows emphasising the GT 4-Door's high-waistline and draw your eye towards the sloping rear end. Some have likened it to a Porsche Panamera knock-off with its narrow rear lights and others feel that the rear end is a little too flabby for what is billed as a serious performance car. Regardless of your stance on the matter, it manages to closely resemble the AMG GT sports car and the hatchback design offers a large boot should Ray Donovan need a suitable upgrade from his previous-generation CLS.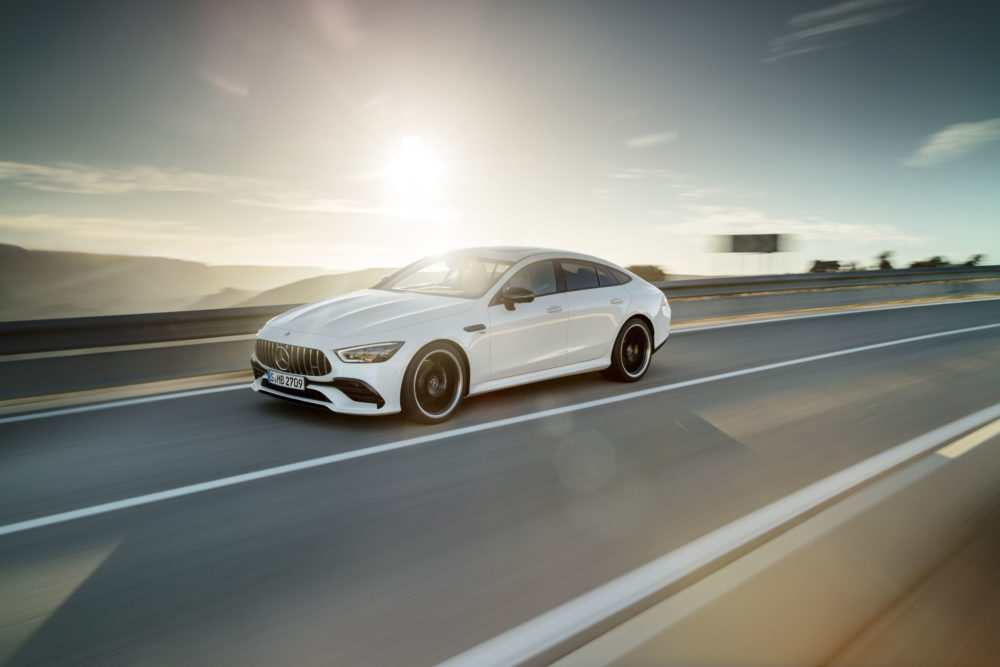 Step inside and you'll quickly realise that the GT 53 is a modern technological marvel that's also incredibly luxurious, it is a GT (grand tourer) after all. The high-definition dual 12.3-inch screens dominate the cabin while standard ambient lighting sets the mood. The thick-rimmed Alcantara-wrapped steering wheel is an utter joy to hold and offers more buttons, switches and dials than a fictional gaming console. Our test unit was fitted with the opulent Exclusive Nappa Leather Pack (R68 500), silver seat belts (R6 100), illuminated AMG door sills (R9 500), 360-degree parking camera (R5 500), a phenomenal Burmeister sound system (R13 000) and the class-leading AMG performance seats with heating for both the driver and passenger (R30 000). The rear cabin is spacious, almost limousine-like with the 2+2 arrangement and an orthodox 3-seater bench can be optioned too. Wireless smartphone charging pads front and rear (R7 000) and the driver assistance package (R29 000) add to the thoroughly modern feel. The latter features one of the most intuitive adaptive cruise control systems in the business. As you can imagine all of these options add notably to the final price tag however if you really want the latest technology onboard the driver's assistance package is a box we'd recommend ticking if you intend on covering long distances.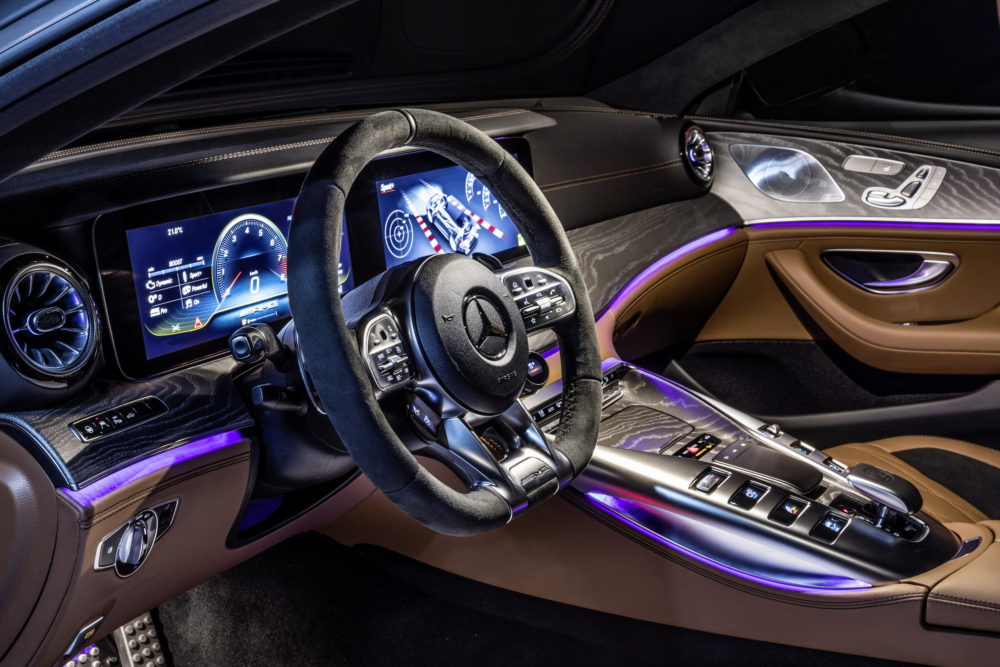 If the bold styling or the contemporary interior wasn't enough to get you interested in the GT 53 4-Door then the drivetrain certainly should. The engine is a longitudinal 3.0-litre inline six-cylinder, it's a silky smooth and refined mill with a howling soundtrack when exploring the rev-range thanks to the AMG-Performance exhaust system (R28 000), again this is an option that should be considered.
In the pursuit of offering both impressive power and economy an electrically powered alternator unit is put to work in assisting the turbocharger at low revs. The result is a strong 320 kW and 520 Nm and for short bursts, an additional 16 kW and 250 Nm can be made available upping the maximum outputs to a potent 336 kW and 770 Nm.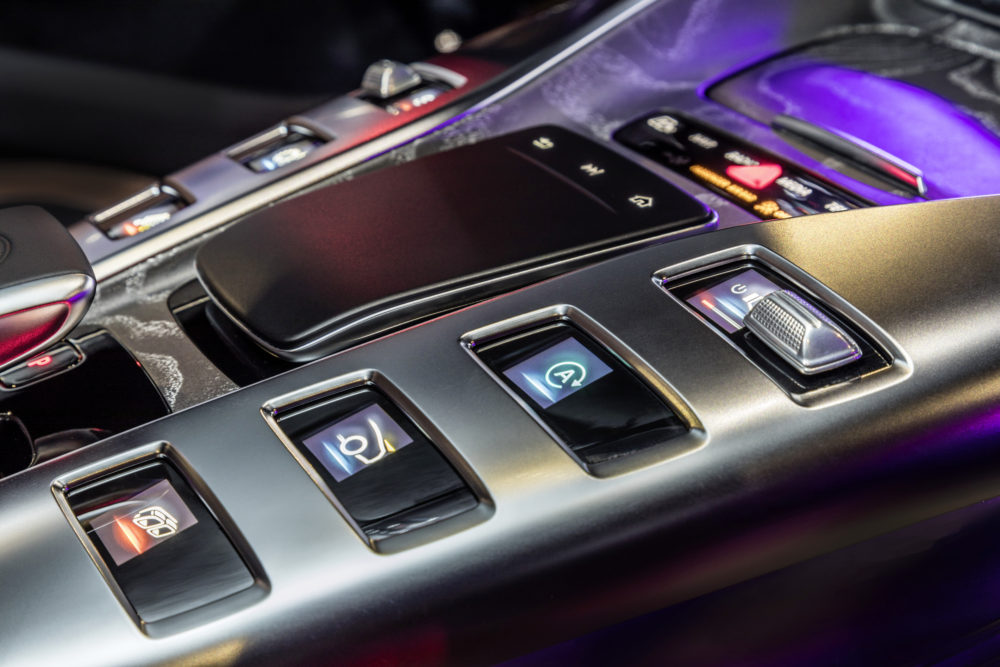 At the earliest opportunity to let the GT 53 loose I engage Sport Plus+ mode. The transmission springs into life and kicks down a couple of cogs while the exhaust clears its throat. The throttle-response sharpens, the suspension becomes unforgiving and the steering wakes up. You soon realise how agile the thing feels with immensely quick steering that provides direction changes that defy all logic. The rear-axel steering (R26 000) definitely has a part to play in this sensation of masking the big 4-door's mass while the AMG Ride Control+ (R29 000) keeps body roll at bay. Come rain or shine this is one seriously quick machine and can be compared to an Audi RS4 or RS5 in how it performs, however, unlike the Audis the AMG 4Matic+ system feels undeniably rear-wheel biased and allows for a hint of oversteer should you really press on with the traction control dialled back to Sport-Handing mode. The standard steel brakes are up to the task of slowing the big and heavy GT53 but after a succession of hard stops the pedal does go a little soft.
Once all the performance under your right-foot has been enjoyed and your passengers are now nauseous you can sit back and relax and engage the adaptive cruise control. The only issue here is that the ride feels brittle and busy even on the relatively plump rubber. The GT 53 needs smooth and unscarred bitumen to display its best. For a grand tourer of its ilk, this is simply not good enough. I'd maybe forgive the woeful ride if this was a test of the full-fat GT 63 S riding on 21-inch ultra-low-profile tyres. But it's not. This GT53 is meant to be the easy-going version the one you'd use every day and the frustratingly jittery ride leaves us scratching our heads. However, if you can forgive this characteristic there are boat-loads to enjoy.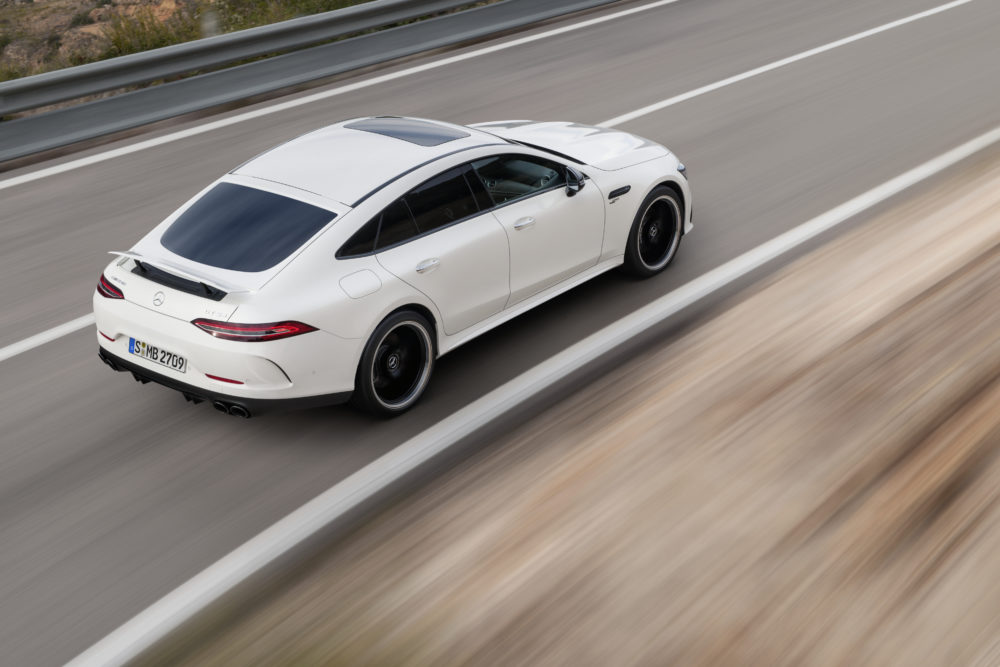 So then, where do we stand after spending a few days with this impressively capable yet undeniably peculiar Mercedes-AMG? While the 2+2 hatchback 4-door coupé design may deeply confuse onlookers the GT 53 equally astounds with its sheer size and supercar-like presence. There really is nothing like it on the road. It's not (dare I say it) as vulgar as the hardcore GT 63 S and as a result, you'd feel less conspicuous when pulling up at the local Spar for a loaf of your favourite gluten-free bread. From behind the wheel, it feels like a true sports sedan and offers potent yet well-balanced performance. The drivetrain is an effortless jewel on the open road and when you want to attack your preferred twisting mountain pass it'd happily oblige with more grip and agility than a vehicle weighing over 2 000 kg ever should.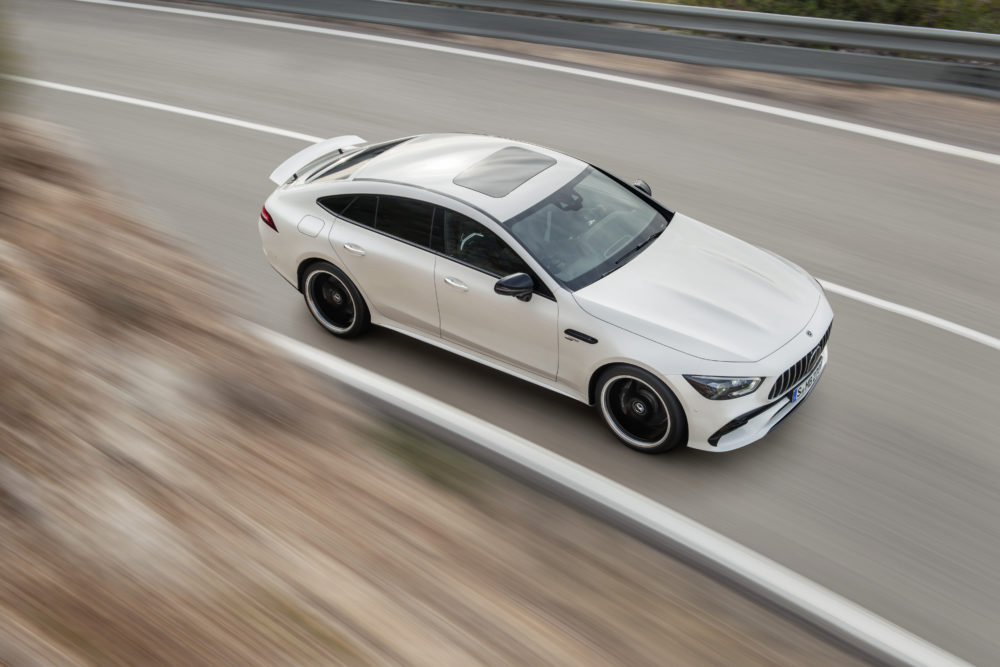 At over R2 million with a whopping options list to further inflate the price (our test unit came with R329 500 worth of extras) the GT53 makes us wonder about other cars that exist in the Mercedes-AMG stable. The original 4-door coupé the CLS can be had in AMG 53 guise for significantly less money, like half a million Rand less and offers near-identical performance. Alternatively, you can go all the way and have a fire-breathing 450 kW E63 S that can be had for very similar money. It's a tough car to make sense of in the context of Mercedes-AMG and things don't get much easier when compared to its natural competitors like the 390 kW BMW M850i Gran Coupé which kicks-off at R1.9 million and the V8 powered Porsche Panamera GTS that costs around R2.1 million too. However, if you want a devastatingly quick, usable and luxurious daily-driver that'll make you onlookers green with envy that takes the shape of Mercedes-AMG's ultimate four-door, look no further.
In a nutshell
Mercedes-AMG GT 53 4Matic+ 4-Door Coupé
Highs
The athletic aesthetic turns more heads than some thorough-bred sportscars while that 3.0-litre inline 6-cylinder is silky-smooth and offers a stirring soundtrack
Lows
Ride quality is sketchy and you could have a Mercedes-AMG CLS 53 4Matic+ for R500 000 less. It offers that eye-catching 4-door coupé design with the same engine and claimed power and torque figures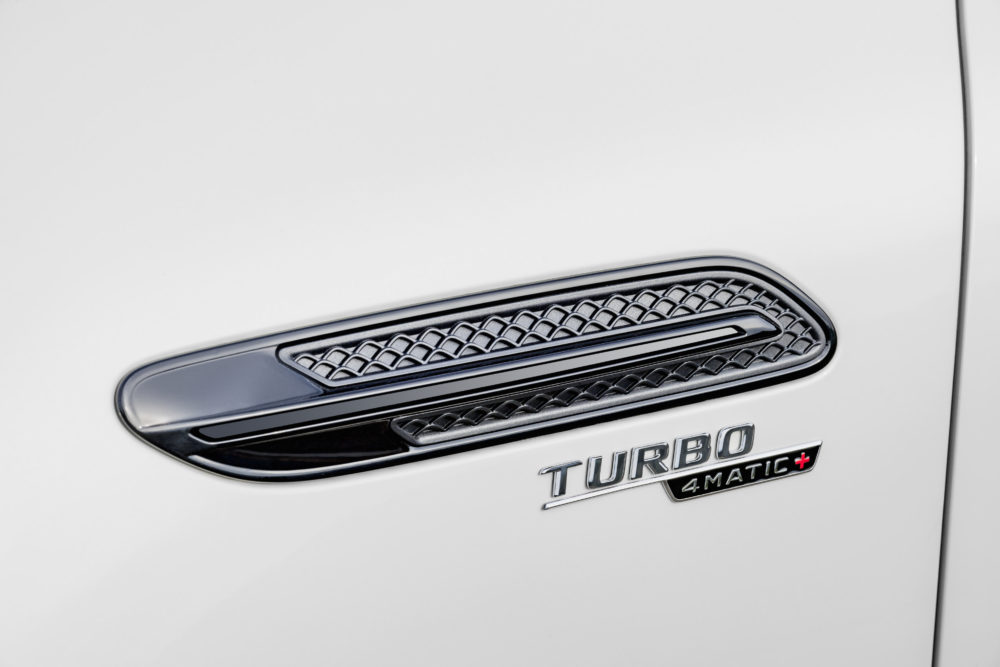 Figures
Engine: 2 999 cc, 6-cylinder, turbo petrol
Power: 320 kW @ 6 100 rpm, 520 Nm @ 1 800-5 800 rpm
Weight: 2 045 kg
Power to weight: 156.5 kW per tonne
Fuel capacity: 66 L
Luggage Space: 395-1 324 L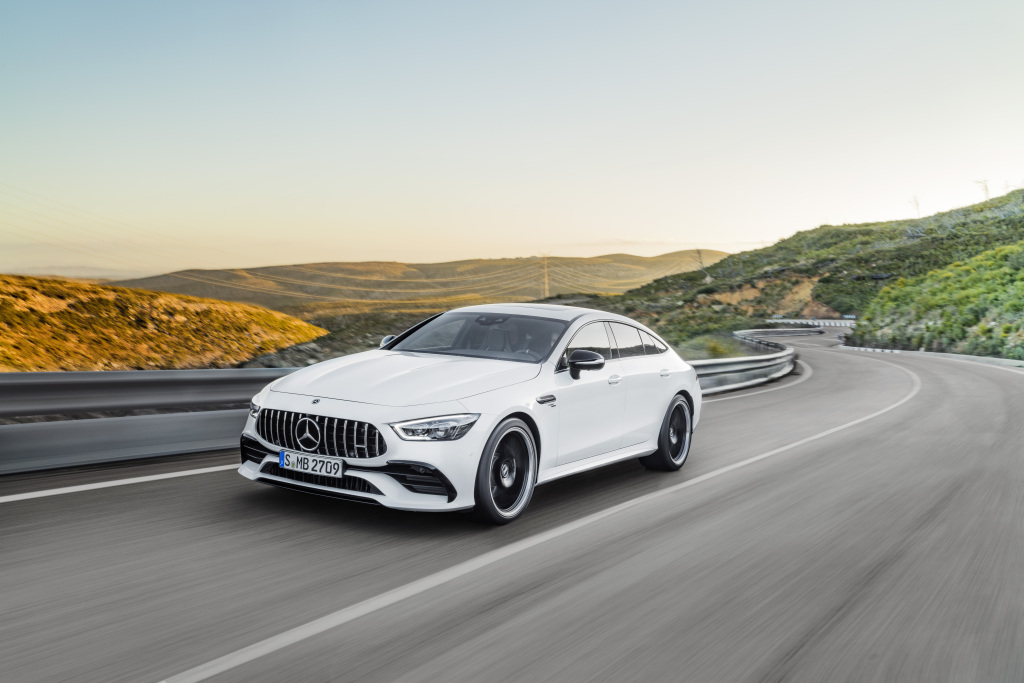 Performance:
0-100 km/h: 4.5 sec (claimed)
Top speed: 285 km/h
Tyres: 255/45/R19 (front), 285/40/R19 Pirelli P Zero
Economy: 9.4 l/100 km (claimed), 11.9 l/100 km (tested)
Transmission: 9-speed auto
CO2 emissions: 215 g/km
Priced from: R 2 132 400 (Price correct at the time of writing)