Life is constantly changing. Not a very profound thought, I know, but all you need do is take a look through your kitchen cupboards to see what I mean. For instance, in there you might find a brightly coloured box of Futurelife breakfast cereal. 'Smartfood for life,' as the motto goes. Aside from the smart font on the box, and the promise of a few more Omegas, how much does this really differ from that box of Jungle Oats you no longer buy? Similarly, that old blender in the bottom draw, its plastic turning yellow, how is that really any different to your smartly designed Nutribullet? They both blend stuff, right? But one is new and the other is old. My theory is it all boils down to packaging and brand attribution. It's kind of a sad state of affairs, frankly, that slick design and clearly defined marketing is all we really need to make us want stuff. As it happens, it's the same phenomenon with crossovers.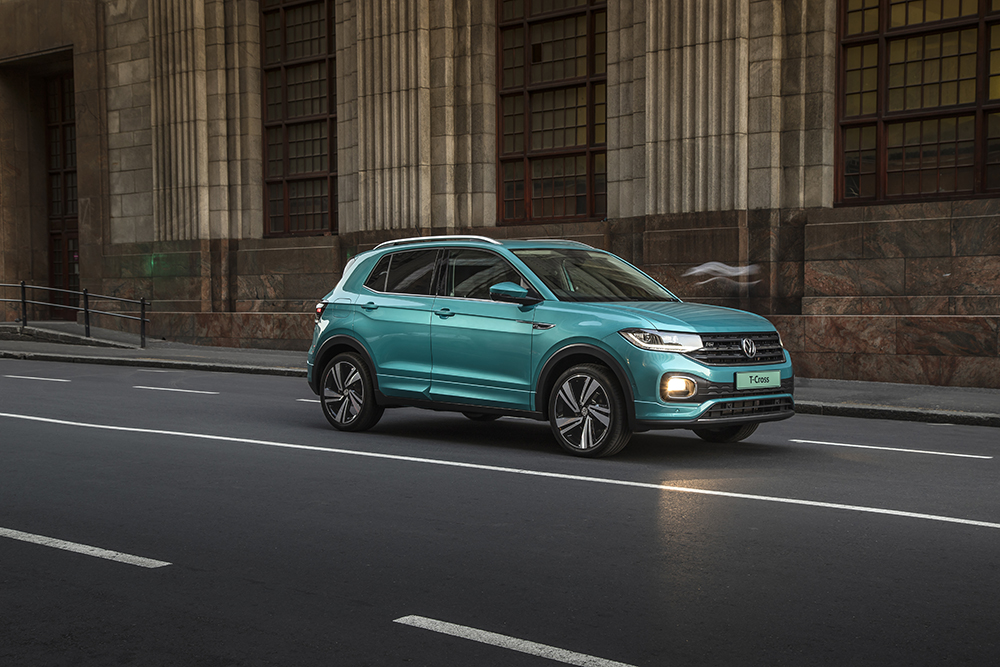 Cues for the new Volkswagen T-Cross are out the door. It's engineered on the same MQB-A0 platform as the current Polo but Volkswagen gave it some Tetris-like rear lights, a jaunty range of paint colours and an altogether more fashion-conscious attitude. You know Volkswagen tried to sell us such a thing in the noughties, right? It was called the Cross Polo and at the time it was considered a curiosity at best, a wretched sales failure at worst. I remember my colleague's somewhat critical verdict on it at the time, 'A great car for people who know nothing about cars.' Right, well, as I said up top, life is changing.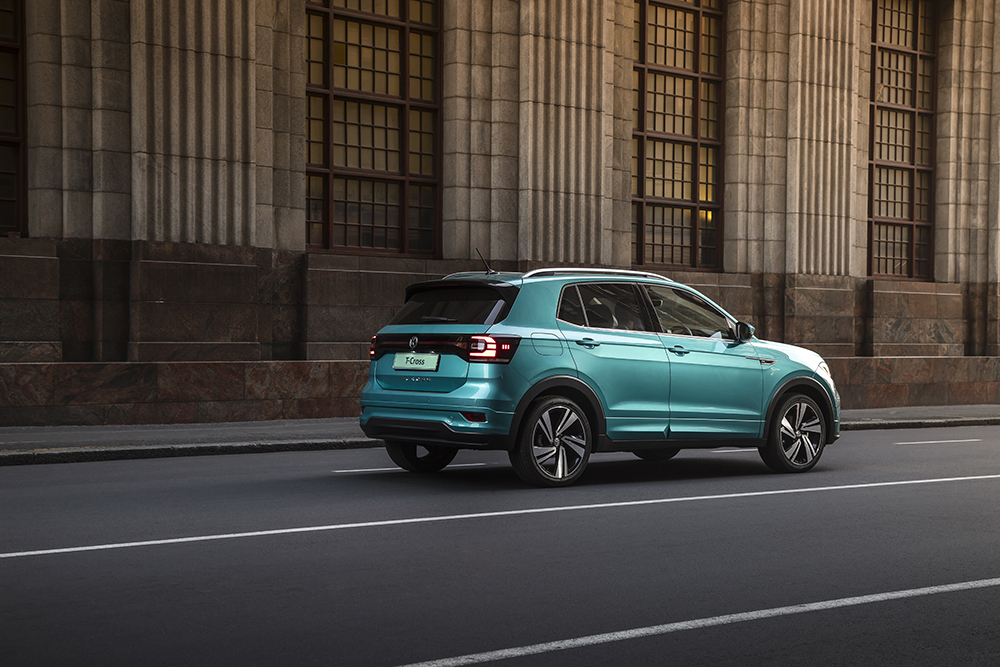 Nevertheless, on an extended test I want to see if there's genuine engineering substance to the T-Cross. And the verdict is mixed. Its character is entirely unintimidating, to the point of bordering on boring, frankly. But you need a car to be well engineered to feel this well sorted. The firm thud as the door closes behind you is genuinely pleasurable as it quells all outside noise. It feels robust and well-put-together. The cabin isn't cavernous but the ambience is uncluttered and there's a pleasant synergy of shapes and screens to relax the eye. Every contact surface the driver has with the car is well realised, although the use of harder plastics lowdown in the cabin might be a little unpleasant to some. The soft leather steering wheel demands much fondling, and while this might sound coy, I'm not fond of VW's steering wheel audio controls, which are a little counter-intuitive with track up/down and cruise control on one side and volume up/down mixing the trip computer buttons on the other.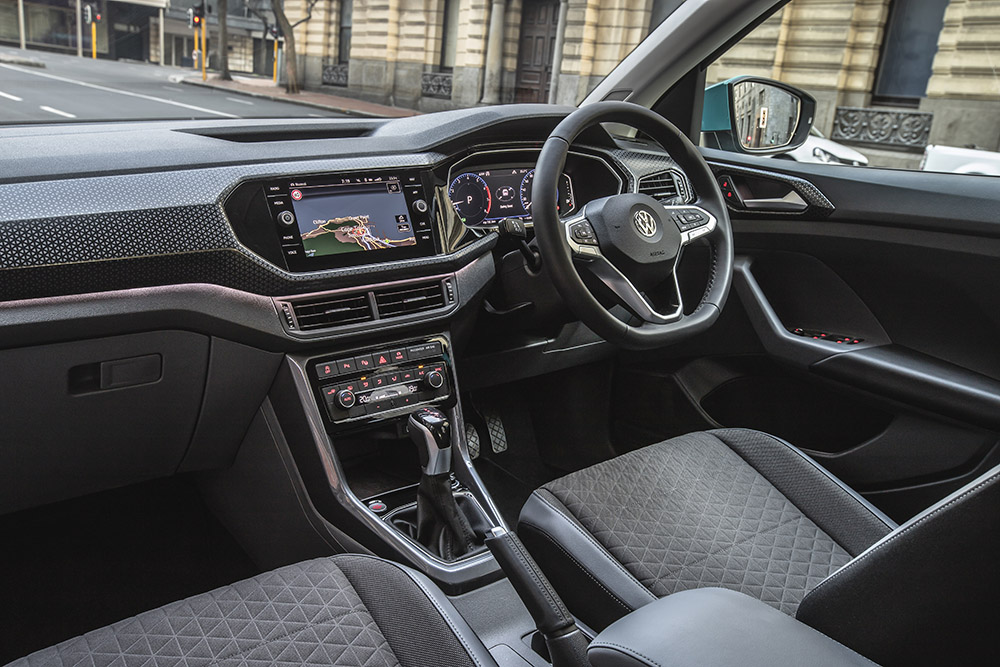 All in all, the ergonomics on offer for a compact SUV are second-to-none. The greatest praise I can give is it does indeed feel like a compact SUV and less like a jacked-up hatchback. So that's something. In terms of practicality, the rear seats can slide forward by 140 mm to unlock some extra boot capacity. A neat trick, however, like rearranging furniture in a small bachelor flat, there's only so much you can do within the confines of its 2.5 m-long wheelbase when you're trying to stow larger items like bicycles and surfboards. 385 litres is your lot with the rear seats back, 455 litres with them forward and 1 216 litres folded flat.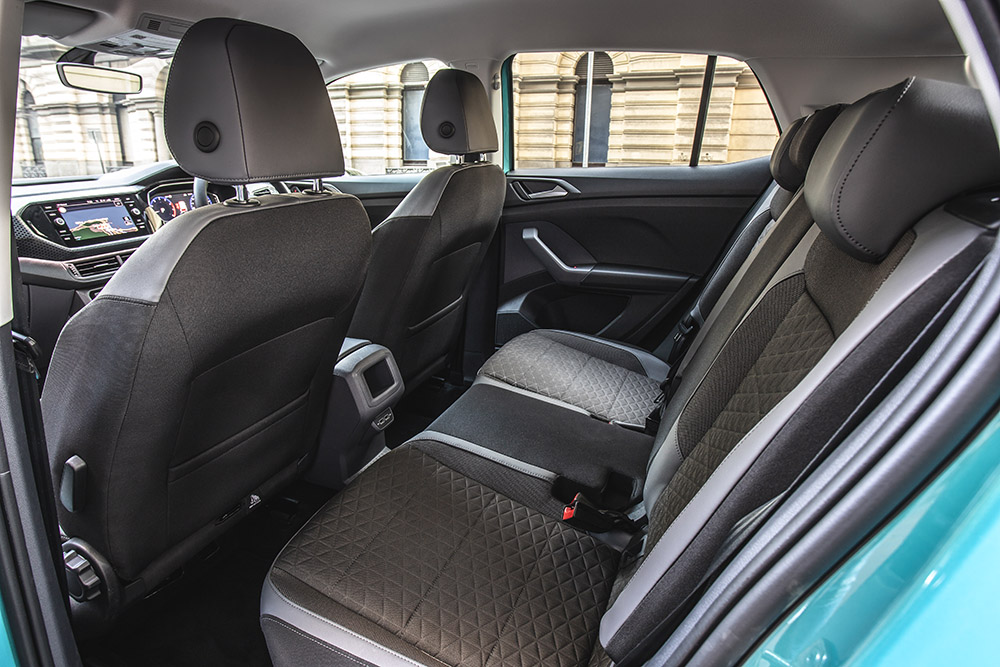 To drive the T-Cross is perfectly predictable, never exciting. I'd love to share a great line from Jerry Seinfeld at this point, 'It won't let you down, but it doesn't lift you up either.' The ride quality from its 18-inch rims on passively sprung suspension is fine. That's it; acceptable on a smooth road, too choppy on a rough one. The steering, too, is accurate enough at urban speeds but nothing you'll remember fondly hours after vacating the driver's seat. One element that cannot hide a lack of lustre is the drivetrain. A 1.0-litre turbocharged triple that's long in stroke, small of bore and high in compression to satisfy the bureaucrats; making 85 kW and 200 Nm. Which sounds just about par for the course for family transport, except, weighing in at 1 270 kg, there's plenty of mass to dull response.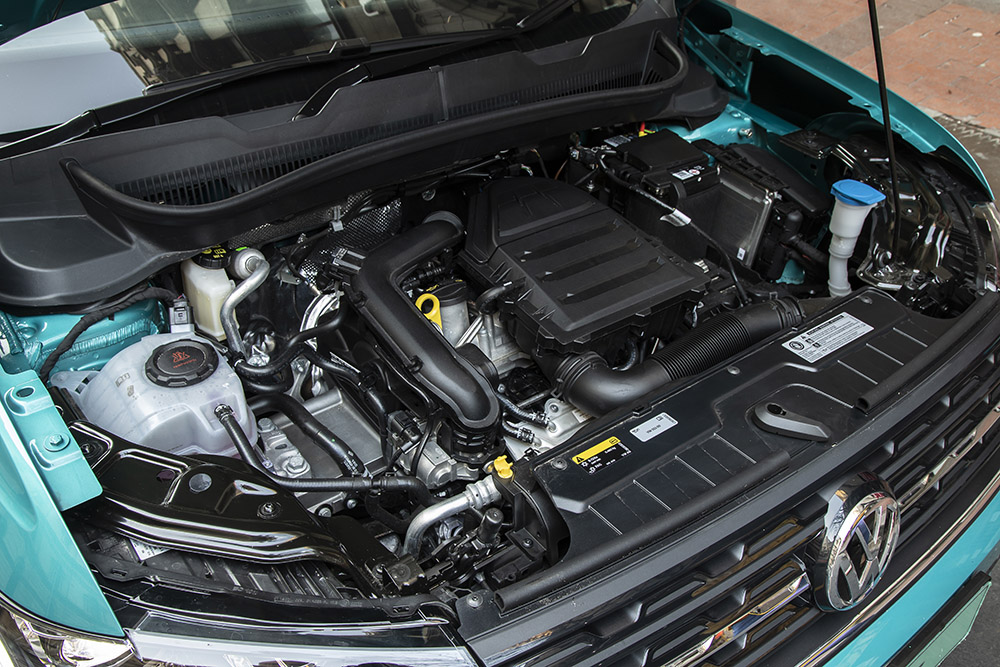 Out on the open road, once you're up to speed, in-gear pick-up is fair but the revs don't climb as quickly as the initial throttle response promises. Another inconvenient truth about this small capacity turbo is noticeable lag from standing starts. An absence of forward momentum when you apply throttle holds you back for a precious few split seconds before getting up to speed. Other motorists, not unreasonably, assume you're leaving a gap for them, and this means the T-Cross is rather susceptible to getting cut off in traffic. Besides that, the seven-speed dual-clutch auto is clean-shifting and performs like a seasoned pro.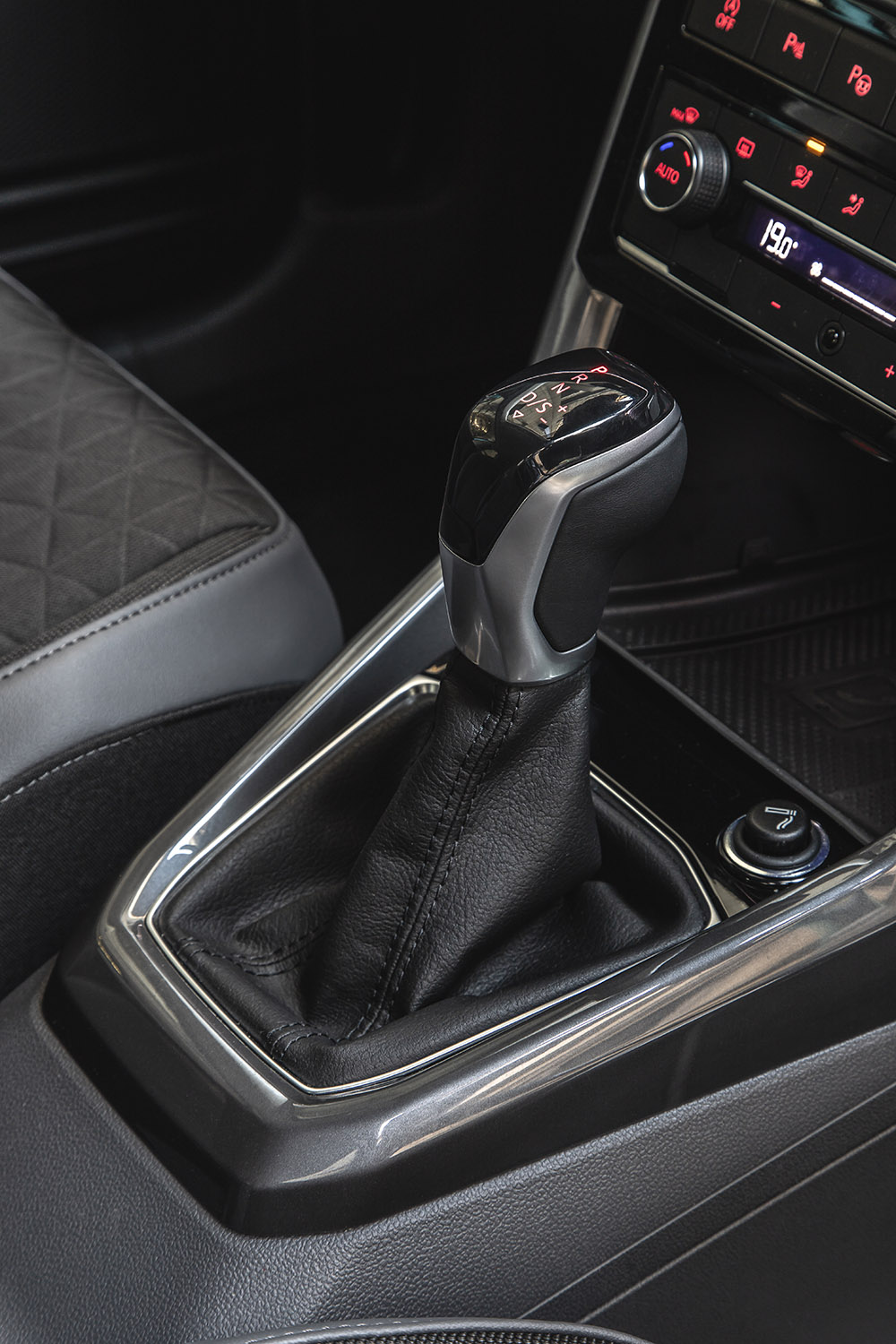 In annexing the crossover from the mundane, has Volkswagen's T-Cross delivered on its manifesto: Cost-effective Polo architecture with agreeable performance, compact-SUV practicality and the style-conscious presence of a luxury SUV? While it does tick all the boxes it set out to – some better than others it must be said – the final product fails to excite this author. All the admiring glances it gathered over the extended test period prove it is a car that resonates with the public, an evolution of the Polo from a value-for-money ethic to high-quality, premium design with conspicuous exterior trinketry. Consumers don't mind that the conventional Polo offers better value and driveability. So there you have it, the T-Cross, 1.2 tons of proof that desire overrides necessity.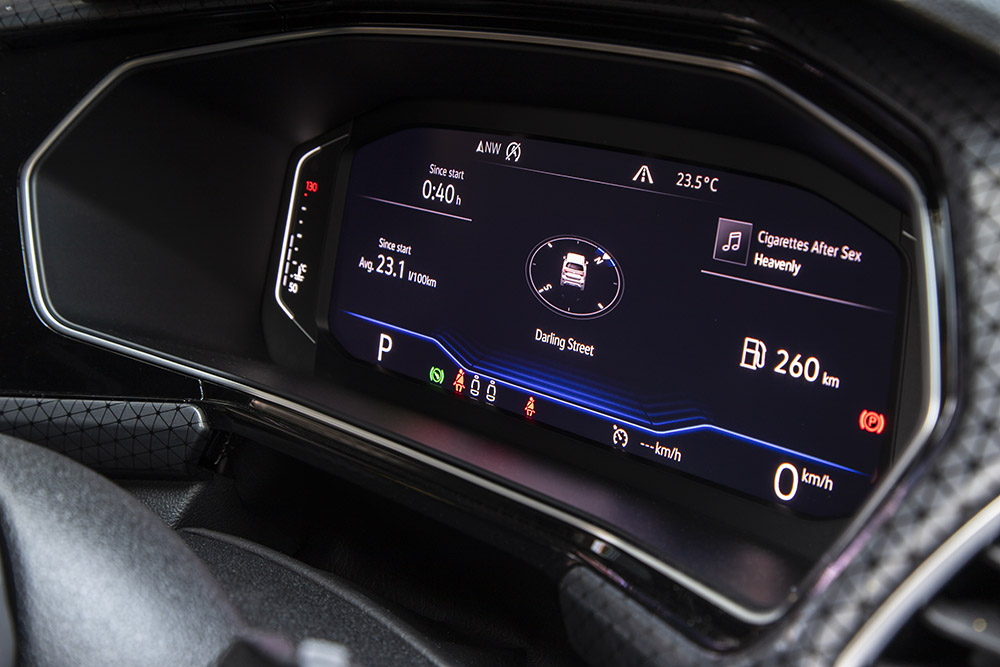 In a nutshell –
Volkswagen T-Cross 85 kW 1.0 TSI Highline
Highs
Crossover of the moment
Lows
Laggy drivetrain, not as practical as we'd hoped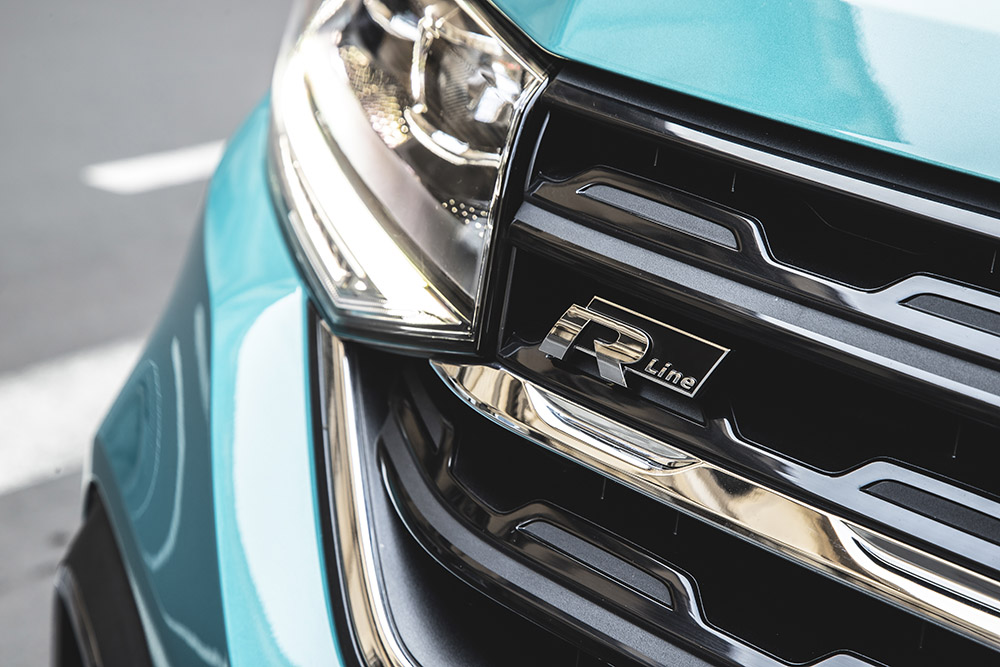 Figures
Engine: 999 cc, three-cylinder turbo petrol
Power: 85 kW @ 5 000 rpm, 200 Nm @ 2 000 rpm
Performance: 0-100km/h 10.2 sec, top speed 193 km/h
Tyres: 225/55 R18 Continental CrossContact
Economy: 5.3 l/100 km (claimed)
Transmission: 7-speed dual-clutch auto
CO2 emissions: 126 g/km
Price: R365 000